Popcorn Times is officially back again with the message Hail Hydra. What are you missing out? This guide will explain the Popcorn Times phenomenon, VPN concept and provide you the list of best VPN for popcorn times.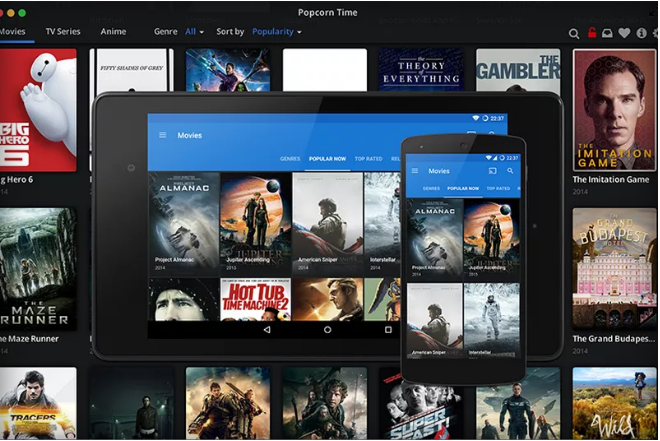 Four months after the shut down from losing to a lawsuit by Motion Pictures Association of America (MPAA), Popcorn Times, dubbed by many as Netflix for torrents, a revolutionary open-source BitTorrent streaming client announced its comeback with an update "Hail Hydra" on the official website.
What is Popcorn Times? and how it operates?
Many of you who are not familiar with this program or its concept. Popcorn times is a simple open-source BitTorrent client which uses the power of Butter (video streaming application project).
What Popcorn times does, is that it simplifies the process of torrenting and enable users to stream and share movies and TV shows for free, found otherwise on legitimate platforms like Netflix and iTunes for a subscription.
Popcorn times work on the concept of torrenting. Clients like Vuze and uTorrent, make it clear to the users that the moment they start streaming, they are simultaneously downloading and uploading. Thus, exposing their original IP address on the tracker network through which copyright owners and your ISPs can reach out to you. Users can circumvent this issue by a use of a VPN for popcorn times to access the torrents with make-over IP.
What is a VPN protection?
VPN refers to Virtual Private Network. It redirects the internet access to pass through an encrypted tunnel without leaving any traces and hiding your real IP address. What does VPN service providers do is that they provide encrypted remote servers through which you connect to the internet without data logging, IP expose and un encrypted data leak (DNS leak).
Why you shouldn't use free VPN and free proxy servers
While searching the internet for the VPN for popcorn times, you will come to these two terms, free VPN and free (web) proxy servers.
Free VPN, like the paid VPN, does provide anonymity. But they offer limited monthly bandwidth, limited server locations, on top of that they log your data. In the results of that, you get slow connectivity to populated servers, bandwidth limit burns out quickly, get blocked IP address on your favorite apps.
Most free (web) proxy servers are the open proxy, which is accessible by any internet user. An open proxy can be easily tricked into revealing your original IP address. On the other hand, the server operator that is providing the proxy service may inject the web request with Ads through javascript or HTML.
5 Best VPN for Popcorn Times
Let us accept the fact that the internet is a bucket load of potential VPN, some of them are great! but which ones are the best? MostSecureVPN has tested many VPN around and has listed some best VPN for popcorn times for you.
[table_headings][feature_item_1][feature_item_26][feature_item_3][feature_item_4][feature_item_5]
For, reviews check the reviews section of our website.
When it comes to all-in-one VPN service provider, ExpressVPN is one tough competitor to beat. Some might argue that expressVPN is expensive but the company claims it with their heavy investment in quality servers to provide you the premium service possible. With its enormous presence of servers in 135+ cities in 85+ countries having unlimited bandwidth and speed, you can connect in any 99.9% uptime server location with military grade SSL 256-bit encryption and zero logging. ExpressVPN supports all protocols and all your devices, be it a Mac, Nvidia shield TV, Kodi Box or your laptop, PC and smartphones. All of that with 24/7 excellent customer service and 30 days money back guarantee.
Just like Netflix, users of ExpressVPN won't have issues connecting Popcorn Times even if they are located in China.
If you are concerned more with your privacy and anonymity to keep government agencies like NSA of U.S. and ISPs to keep away from you, NordVPN headquartered in Panama (outside U.S. jurisdiction) provides brute encryption such as Double Encryption, Tor over VPN and anti-DDoS. It also accepts payment in bitCoins. Some might argue that having double encryption slows down server speeds but with its 550+ server locations in 49+ different countries can resolve this issue if there is any.
Along with these excellent encryption features, NordVPN supports all protocols and devices available with SSL 256-bit encryption. It provides 24/7 excellent customer service with 30 days money back guarantee.
If you are a person of diversity and would want to use VPN for different functions than its core service. PureVPN provides the function of extensive add-ons like Auto protocol selection, Split Tunneling, NAT Firewall and Virtual Router. It has 80,000+ dedicated IPs to choose from in 140+ countries. PureVPN supports all protocols and devices available, with its 24/7 customer service with 7 days money back guarantee.
PIA is now very common among the population because of its cheap price offers. If you wouldn't want to spend much on VPN service then PIA is the best choice for core VPN services. Although you might run into some ban-IPs because of its wide use, but there are 3750+ server locations in 77 countries to choose from to tackle the situation. PIA provides 24/7 customer service with 7 days money back guarantee.
HMA once a web proxy server is now owned and run by AVG company as a VPN service. Although, because of its popularity in the old days it still stands for it name alone, it doesn't provide much of a charm as its other counterparts provide. What sets it apart from others is that it has 120,000+ on 880+ servers in 210+ countries. It provides 24/7 customer support with 30 days money back guarantee.
Conclusion
Few weeks, after its release the Popcorn Times went viral. The simple GUI, like the Netflix, got its dub as  Netflix for Pirates. If you do torrenting for downloading movies and TV shows, then this program will give you the ability to stream directly from the torrent file without downloading them first. But, a word of advice would be to use VPN for Popcorn Times to avoid warning messages from your ISPs for copyright infringements.