iPhone is the sole competitor to Android platform and has its sheer percentage of the market. It has a sleek design, simple and easy-to-understand interface, sophisticated and robust iOS with strong security suites. However, nothing is perfect in this world; the security keeps on improving but will always be exposed to vulnerabilities, especially iPhone, as in the news these days.
It reminds that your devices are not safe enough, and you need take precautionary measures on your part to mitigate the risks of cyber attacks. You can secure your device with security system apps and best VPN for iPhone apps on secure internet connectivity, in combination with built-in security features to strong arm your iPhone in safety and privacy.
Most of the internet people are either unaware of the imminent cyber attacks or security is not on their priority list when they go online. But, with the efforts of security awareness programs and recent news on data breaches has lifted the doubts and excuses for not keeping eyes on your own devices. 80 percent of cyber attacks find a way to your device is through weak network security, with the rest needs physical access.
As Internet connectivity is in question, how can we secure our iPhone? The most common and quick way is through encrypting your internet traffic through a VPN. We have listed some best VPN for iPhone devices.
How VPN For iPhones Works?
A Virtual Private Network (VPN) is the most secure method of protecting the networking connectivity of iPhone. It works in two steps: First, it hides your original online identity (i.e. your IP address), which carry your internet details and your geographical location, with that of fake IP address. Second, it builds a private and encrypted tunnel which makes all of your online activities completely secure and hidden from all the snoopers, hackers, and spammers and offers exceptional and unbeatable security with high-end anonymity.
Why Do You Need A VPN For iPhone
Your iPhone device is most probably flooding with your private data which you don't want anyone to access. An internet connection without a VPN makes it discoverable to potential cyber threats, whenever you visit an untrustworthy website. An internet connection with a VPN is encrypted and secure; it prevents such threats from reaching out to your device directly, as a VPN server works as an intermediary and blocks any malicious website at its security level.
5 Risks Of Cyber Threats
It seems that with technological advancement in the world of internet and computer the cyber evils are also updating their tactics and exploring advanced methods to hamper the security of many internet users and exploit their information and use it against them. Hackers and spammers are always looking for their prey on various networks over the internet and any loophole in your iPhone's security parameter can ease their access to hack your phone and cause severe hazards to your iPhone. Some, but not all, threats to your iPhone device are listed below.
1 – MALWARE, RANSOMWARE, WORMS
Sometimes while surfing the internet on your iPhone, you install some malicious apps which seems to be good but in actual contains a dangerous malware or ransomware. The malware and ransomware, in turn, hijack your iPhone device and copy all of your private data to the unknown servers, or encrypts it with a key for trading it with money. For example, in 2017 a ransomware named 'KeRanger' distributed through a BitTorrent client for iOS on a mass scale, which appeared to be a neat app but once installed on the device, it blocked the owner's data and then demand a $400 ransom.
2 – MASS SURVEILLANCE
The NSA of the United States of America is an exposed example of mass surveillance. Bureaucrats are trying their utmost to gain access to your private data by a fiat, in the name of controlling criminal activities.
Developed countries throughout the world have initiated and implemented Mass Surveillance Programs, one way or the other, and all the activities of every single internet user throughout these countries are monitored and recorded by the government and surveillance agencies 24/7.
3 – ABSOLUTE ANONYMITY
The best VPN for iPhone ensures complete anonymity while browsing the internet by hiding your original identity (i.e. your IP address) and change it with a fake IP address, which makes you completely hidden and untraceable on the network. It prevents all the prying and spying eyes from tracking your online activities and gives you superb and absolute anonymity and privacy protection shield.
4 – AES BANK LEVEL ENCRYPTION
The best VPN for iPhone with its strong encryption secures your online data by making it completely unreadable with its flawless 256-bit AES bank level mechanism. It ensures absolute protection of all the online data that you send and receives through strongly encrypted protocol such as OpenVPN, L2TP/IPsec, PPTP and many others.
5 – ACCESS TO BLOCKED CONTENT
Many websites and streaming services are restricted or divided geographically. It is more frustrating when you are traveling a country and finds all your favorite websites like Facebook, Twitter, YouTube, and many other, blocked by the government authorities. The best VPN for iPhone elevates this restriction by offering dedicated servers in different regions of the world, which you can select to bypass geo-restriction.
How To Install And Set Up VPN For iPhone
You can install and set up any VPN software on your iPhone by following these steps.
Select a VPN service from the listed provided and press "Visit Provider" to access the VPN provider's website.
Select your purchase plan and proceed to payment page.
Once purchased, a confirmation email will be sent to your email address with an activation code and login credentials.
Download the iOS app from iTunes app store by clicking "Get."
After the installation is completed, open the VPN app.
It will ask you to install configuration, tap "allow" to auto setup configuration.
Now, again open the VPN app and tap "Connect" button.
Once, a VPN box appears on the notification screen; it means you have successfully established a VPN connection
Best VPN For iPhone/IOS
Here are the List Of Top 5 Best VPN For iPhone
ExpressVPN is the best reliable and ultra-secure VPN service provider that offers highly convenient and easy-to-use best VPN for iPhone and all operating systems. Their iPhone VPN app provides the facility of auto-setup, so the users who are not used to with the manual setup can easily use this iPhone VPN. ExpressVPN also ensures your security with 256-bit OpenVPN encryption protocol that supports both UDP and TCP protocols. It is compatible with both iPhone 4S and iPhone 5.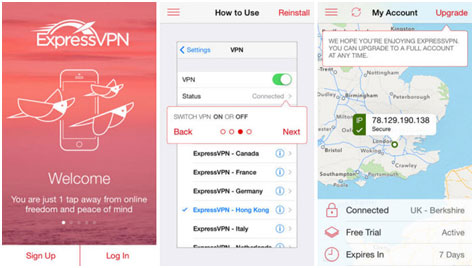 More considerable features of ExpressVPN:
100+ server locations in 78 countries.
Offers faster speed than any other VPN service provider.
Strong no-log policy.
Unlimited bandwidth.
Compatible with Windows, Mac, Linux, iOS and Android.
High security with OpenVPN 256-bits.
Provides 24/7 Live Chat support.
30-day money-back guarantee.
---
PureVPN offers customized VPN apps for iPhone and other platforms for ensuring a great experience of VPN. This iPhone VPN app provides you the freedom to unblock all geo-restricted content on the internet. You can download PureVPN iPhone app at free of cost. This iPhone VPN app comes with incredibly simple design and easy to use interface. So here you just need to put your username and password, then it automatically identifies your location. At the bottom of your iPhone, get straight "Connect" button and press it after choosing your preferred location. This app is compatible with iPhone, iPad, and iPod touch and needs iOS 6.1 or above.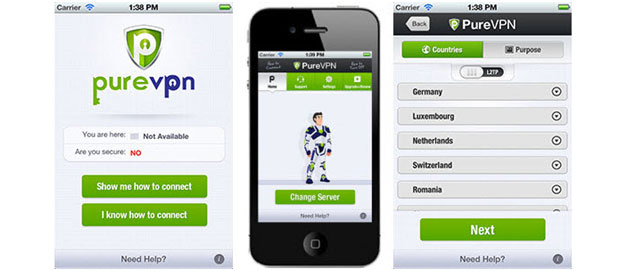 More considerable features of PureVPN:
500+ server locations in 141 countries around the world.
Provides 80,000+ IP addresses.
Get features of DDoS Protection, Split Tunneling, StealthVPN Browser, NAT Firewall, Internet Kill Switch, Smart DNS.
Unlimited Server Switching and Unlimited Bandwidth.
7-day money-back guarantee.
Ensures 99.99% uptime of its services.
OpenVPN, PPTP, L2TP/IPSec,SSTP and IKEv2 protocols with 128 and 256-bit encryption.
One account can be used on 5 devices simultaneously.
24/7/365 Live Chat support.
---
NordVPN headquartered in Panama offers the strongest encryption by providing features like VPN-over-VPN and Tor-over-VPN for securing your internet connection with double layer protection. Its SSL protected servers spreads over 49 countries. The VPN connection is 256-bit AES bank level encryption with various selection of protocols including PPTP, OpenVPN, and L2TP/IPSec.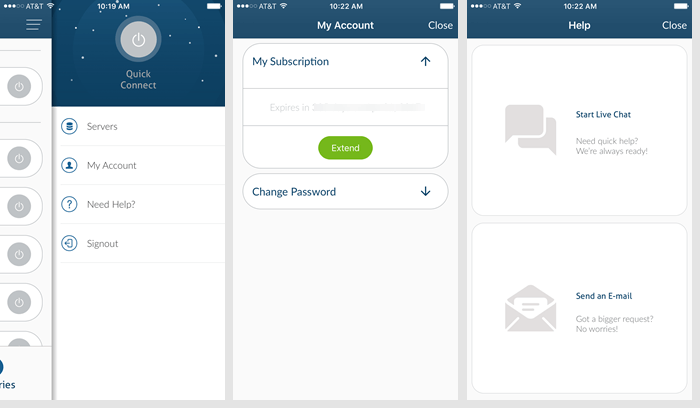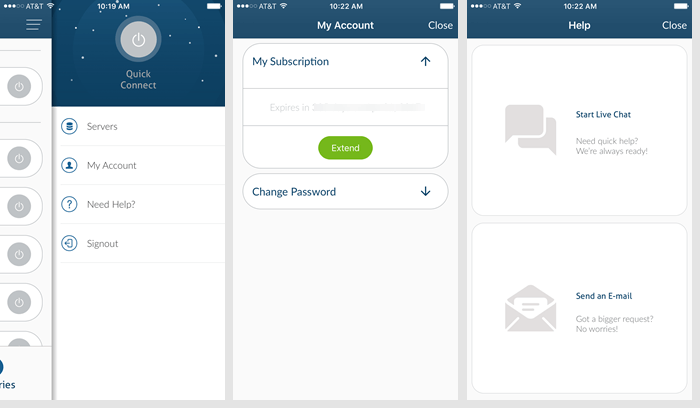 NordVPN offers 6 simultaneous devices connectivity and is synced well with iPhone and Mac devices. The client app is simple, sophisticated, and easy-to-understand. It provides various payments method including BitCoin to ensure complete anonymity of your purchase and save you from the hassle of credit cards. NordVPN takes third place in Best VPN for iPhone app list.
More considerable features of NordVPN
Zero Log policy
Double Data Encryption (VPN-over-VPN, Tor-over-VPN)
684+ servers in 49 countries
6 simultaneous device connectivities
Simple and easy-to-understand app client
Various payment methods including BitCoin
30-day money back guarantee
Quick customer support 24/7
---
Private Internet Access is an excellent and reliable VPN that offers brand new intuitive interfacing VPN Apps for iPhone. In the last 24th May 2015, PIA released this iPhone VPN app for their subscribers. You can download this 2.9 MB size app at free of cost. Moreover, you get it in 13 different languages. The iPhone VPN app of PIA also ensures high-grade security and utmost privacy of your iPhone when you are connected to a public Wi-Fi network. This app is compatible with iPhone, iPad, iPod touch and you need devices with iOS 7.0 and above version.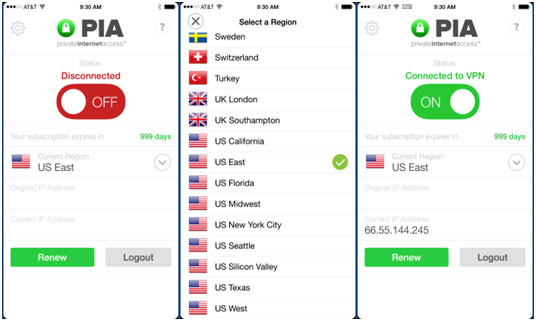 More noticeable features of Private Internet Access:
More than 2897 servers are spread over the 20 countries covering 31 locations.
Offers advanced features like DNS Leak protection, VPN Kill Switch, IPv6 Leak Protection.
Ensures fast speed to stream videos of geo-restricted websites.
Allows to be connected on five devices at a time with a single account.
Gets thisenriched featuredVPN at only $3.33 per month.
Allows OpenVPN, PPTP and L2TP protocols.
7-day money-back guarantee.
---
Ivacy VPN established in 2007 and headquartered in Hong Kong, is a sophisticated VPN services that have gained popularity for its strong service at affordable prices. Although, it is fairly a new company as compared to its competitors it has made grounds for itself with its top-notch performance. Being a new business, it has 256 servers spreads over 100+ locations. Ivacy servers, optimized for speed, offer unlimited bandwidth and maximum speed with 256-bit AES encryption.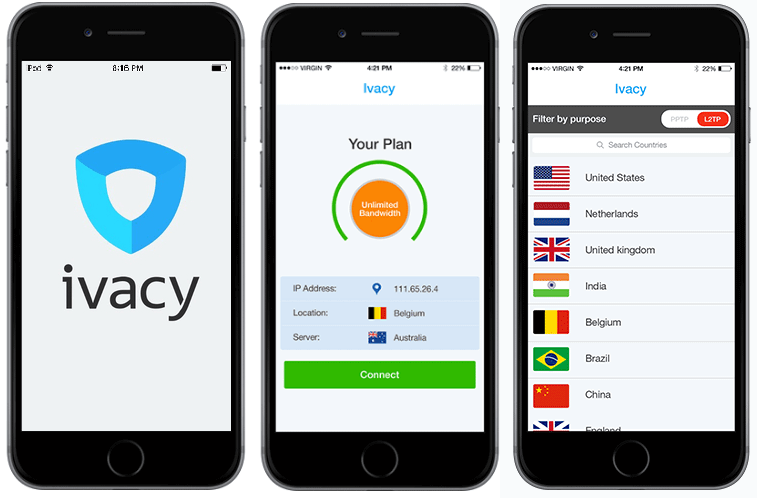 Ivacy allows 5 simultaneous devices connectivity with simple, easy-to-setup, and easy-to-understand client app. However, the customer service is not responsive sometimes. Ivacy VPN takes fifth place in Best VPN for iPhone app list.
More considerable features of Ivacy VPN
Zero Log policy
100+ VPN locations
Split tunneling features
5 simultaneous devices
Simple and easy-to-understand app client
Conclusion
Since the most essential and sensitive information of our everyday life is stored on our handy iPhone, so it should be protected with the highest security. Best VPN for iPhone can be the perfect one to provide this absolute security of your iPhone. It also gives you the freedom to enjoy blocked content of different countries on your iOS devices.