Mac is a preferable operating system over others, simply because of its extra security. But actually for all purposes, is Mac OS X able to make you protected? In reality, the answer is 'No'.
Hackers and spammers are very strong and active. So when you go online, their snooping eyes always remain on your activities. Especially there are online marketers who are the major threat to the Mac users since they always investigate and collect users' particular choice, interest for their business purposes.
To keep away from this unwanted spying on your online activities best VPN for Mac is the most suitable solution.
5 Best VPN For MAC For 2019:
Critical Reason of Choosing Best Mac VPN?
Although, we think that when we are using Mac operating system, our devices are free from all kind of vulnerabilities. But history says something little different. In February 2014, a big issue has been detected regarding the Mac operating system. Actually, it was a great security pitfall that helps hackers and spammers to observe your database and change the data sets when you are on online. This pitfall was introduced as "go to fail" which attacks the users by stealing their financial data like credit card or debit card info, deleting their important emails or other important and secret information. Now this issue has been fixed by Apple. But as a Mac user, you have become aware that Mac OS X is also vulnerable, so you should select the best VPN for Mac.
Sadly a new release also meant new threats for Apple users. The OSX El Capitan didn't bring just an improved interface and new features; it also created two new vulnerabilities for hackers to exploit. The most dangerous one are related to the iCloud Keychain app which was supposed to store and protect all your passwords, credit card information, and WiFi network security information. Even more, users can use this app to store email data, contacts, and messages. Such an app should be impenetrable, and still, it is one of the most vulnerable and allows hackers complete access into users' personal lives.
The problem doesn't reside in the iCloud security, but in the new OS framework. There is a loophole that allows ill-intentioned people to access your data using your own computer.
Since the system is still vulnerable, and other may soon appear, it's always best to take care of your most valuable personal data and use a VPN service. Today we are going to discuss the best VPN for Mac and why you should be more careful with newly released updates from Apple.
Why should you take in Best VPN for Mac?
The devices whatever we use, in the era of internet revolution we are not completely protected from the vulnerability of internet. So when you use MacBook or any other Apple devices, you have to be more cautious about the security issue of the devices. Otherwise, the strong virus can hamper the working ability of your essential devices. In this case, VPN for Mac can be your best companion since it will ensure your security for all purposes. Let's see what benefits are hidden in the VPN service providers that assure the security of Mac OS X.
Even though Mac is considered as the best secure operating system but there is the chance to occur hacking and spamming when Mac users are in online using Mountain Lion, Snow Leopard or Mavericks – which are different operating systems of Mac.
All Apple devices are well-known for their high level of sophistication and the care manufacturers invest in the design. However, the new systems must deal with more complex operations and the development of social media and online purchasing brought in new threats that the old systems never had to deal with.
This is why you should never completely entrust your personal data and privacy with an operating system. By using one of the best VPN for Mac services out there, you will be able to make sure all the information that are of value to you (financial data, personal details, passwords, private accounts, and others) are completely safe.
How to select the Best VPN For Your MAC?
When you're in the market for a reliable VPN service, there are a few factors you should consider:
The type of clients and ease of use – Mac computers are a bit more sensitive when it comes to installing new software so make sure the service offers the correct type of clients. Also, make sure the interface is easy to use and understand.
Speed & bandwidth –the best VPN for Mac will have to offer more than the standard offer (about 50% of your regular Internet speed). If you want to use this VPN for online streaming services, the speed is going to make all the difference in the world.
Availability & Customer support –a reliable VPN service must be there for its clients regardless of time and date. Also, they must have wide network coverage, with powerful servers all over the world.
The encryption type – take a closer look at the type of encryption they use. Usually, most modern services implement two different types of encryption to ensure the client's privacy and complete anonymity. Also, the security protocol must be modern and capable of withstanding attacks from both hackers and governmental agencies. The most powerful one on the market right now is OpenVPN.
Logs – if you value your privacy, choose the best VPN for Mac that doesn't store traffic logs. This way, no one will be able to make the connection between your VPN browsing and you.
 Best VPN for Mac – Overall Solution of Your Apple Devices
If you are residing in the USA or UK and want to protect your online activities from the prying eyes of the National Security Agency (NSA)of the USA or British intelligence and security organization – Government Communications Headquarters (GCHQ), VPN can be the exact and quick fixing of your issue. NSA and GCHQ not only observes your phone calls details, but also spies on the internet activities of the citizens of USA and UK. So to be protected from the spying activities, Mac VPN performs as the shield of your online activities by using different protocols and procedures.
Now come to the next point where Mac users' security can be questionable and this is public Wi-Fi. For anyone, public Wi-Fi is the best easiest way to be connected to the internet and download favorite movies, songs or anything else without considering the data cap. Moreover, when you are in the airport or in the coffee shop, you can easily be connected to the Wi-Fi network and check your daily emails, Facebook notifications or other essential activities. But with the public Wi-Fi your security is highly threatened since hackers and spammers are strongly active over the public Wi-Fi network. So our team's suggestion is that never be connected to the public Wi-Fi without installing a Mac VPN on your devices, even if the Wi-Fi network is protected by the password. Because password of public Wi-Fi can't provide the assurance that the network is secure.
Best VPN for Mac not only protects you from the hackers or spammers, but also you get the privilege to unblock geo-restricted content all over the world. So if you residing outside the USA and wish to enjoy a vast collection of different flavors movies, TV shows or any other programs of different video streaming channels like Netflix, Hulu plus, ABC Network, HBO Go, BBC iPlayer or any others, VPN for Mac will make it possible or you.
Set up a Mac VPN Connection on Mac OS X
Before setting up VPN on your Mac OS X, you need to be sure about few things and these are;
VPN Server Address
VPN server address is mainly the IP addresses that are needed for connecting to different country's server. It may be Fully Qualified Domain Name (FQDN). All Best VPN for Mac provides entire server list.
VPN Credentials
Mac VPN credentials include username and password. These are provided to you via E-mail by your VPN service provider.
Connection Type
There are three types of VPN connections – L2TP/IPSec, OpenVPN, and PPTP. All types provide a secure connection, but L2TP/IPSec and OpenVPN are more secure than PPTP. For L2TP connections, you need a shared secret in addition to username and password. However, if you want to be connected over OpenVPN, you need a third party app which you can download from the app store.
Best VPN for Mac provides you Mac VPN client software so when you setup Mac OS X, all required settings will be imported automatically. For manual setup, you should follow the below steps.
Step 1: At first go to "System Preferences" of your Apple devices and then press on "Network".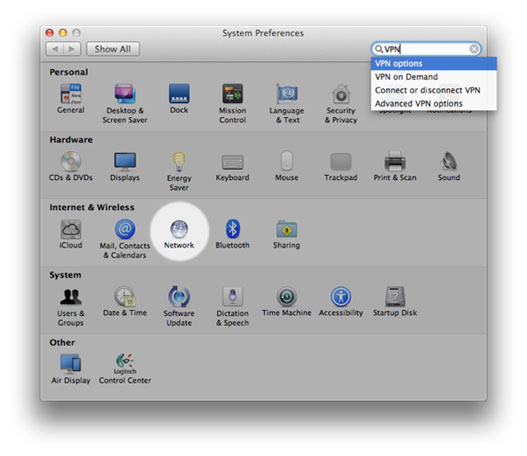 Step 2: Now give your look at the bottom of network button and click on '+' icon.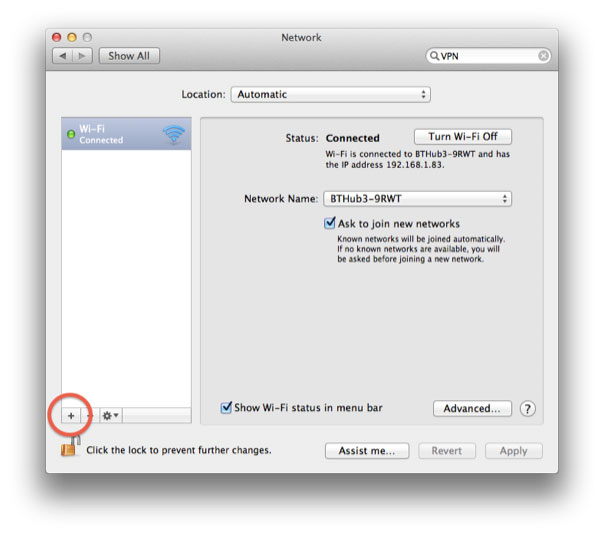 Step 3: After that the window which has come, from that choose VPN from the interface section, select PPTP from the VPN Type and type VPN (PPTP) in the Service Name box. Then press "Create" button.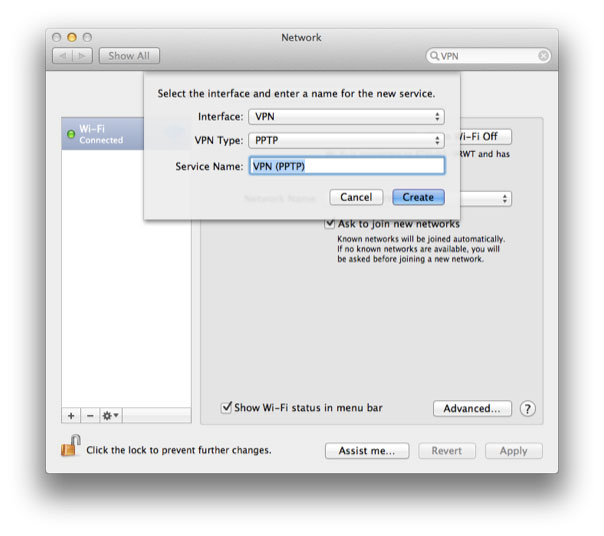 Step 4: Now if you want to configure multiple VPN settings on your Mac device, go to "Configuration" option and create a new configuration typing "Server 1". If you do not want multiple settings, just insert the name from the default option.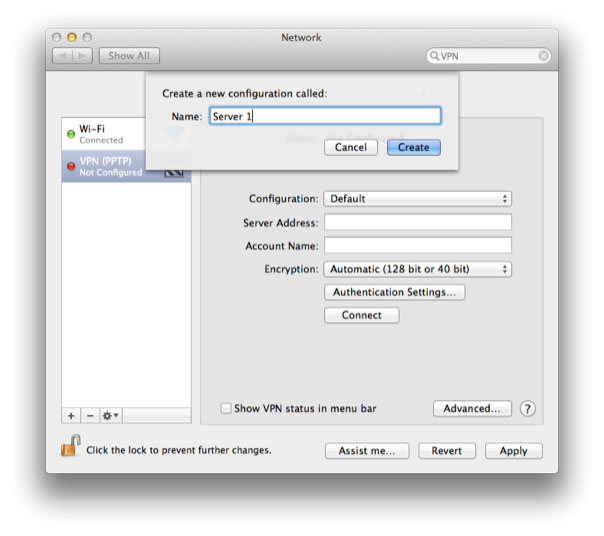 Step 5: Then type the "Server Address" and "Account Name". Now press on "Authentication Settings".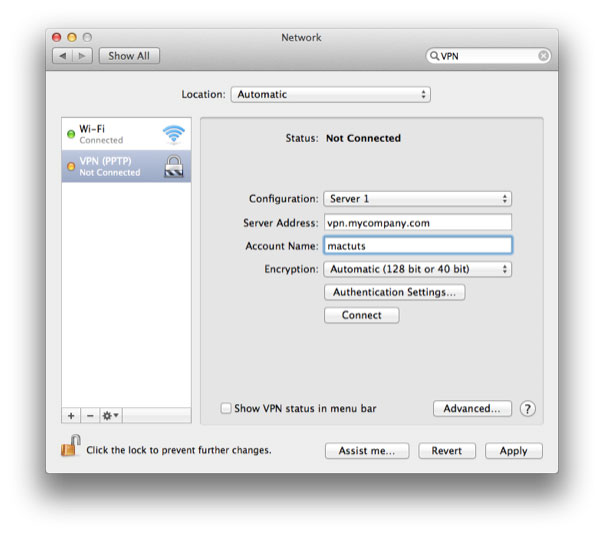 Step 6:  Now enter the password of your VPN connection and remember that if you choose L2TP in VPN Type box, you have to insert the shared secret. Be sure that "Show VPN status in menu bar" box is checked.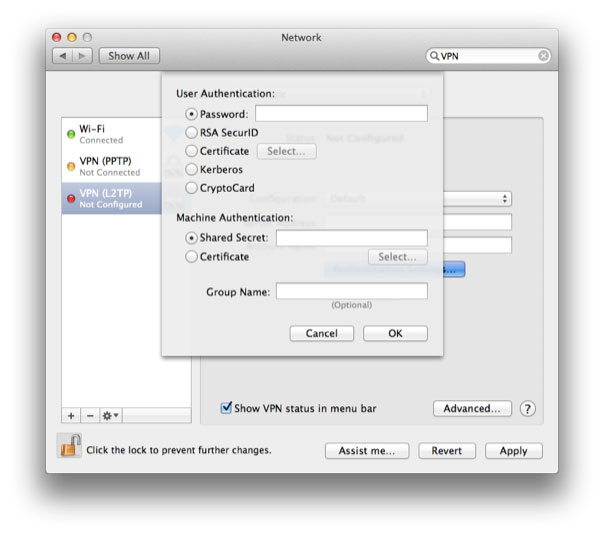 Step 7: Now your VPN connection is ready to be connected. Go to your menu bar and select "Connect VPN" and that's ok. You are now connected and secure from the hackers and spammers.
Conclusion
When you are using Mac OS X,Best VPN for Mac ensures your utmost online security whether you are connected to the internet hub through public Wi-Fi network, work network or home network. Your all kinds of sensitive and important information remain in safe with the Mac VPN. Best VPN for Mac provides this safety by masking your real IP address and locations. Its blessing is not limited within this. VPN also allows you to break all geo-restriction and barriers.