The media streaming has revolutionized since the old days of dish-antenna to watch your favorite TV channels and change frequencies every time you had to see your show. Today, media streaming devices can be found on your table inside your house instead of windows and roofs and long cable wires. One such device is the popular Roku device which streams your favorite shows from 3500+ channels directly from the internet and displays it on your TV. However, the content is mostly from the US, therefore, using a VPN for Roku has become a necessity especially when you are outside the US or traveling abroad.
Best VPN For Roku:
[table_headings][feature_item_1][feature_item_26][feature_item_3][feature_item_4][feature_item_30]
What's so special about Roku? Is its vast content such as Amazon Cloud Player/Video, BBC iPlayer, Google Play Movies & TV, Crunchyroll, Ameba TV, Hulu Plus, HBO Go, Hasbro Studios, Netflix, Now TV (UK only), PBS, PlayStation Vue, WWE Network, Sling TV, and many other.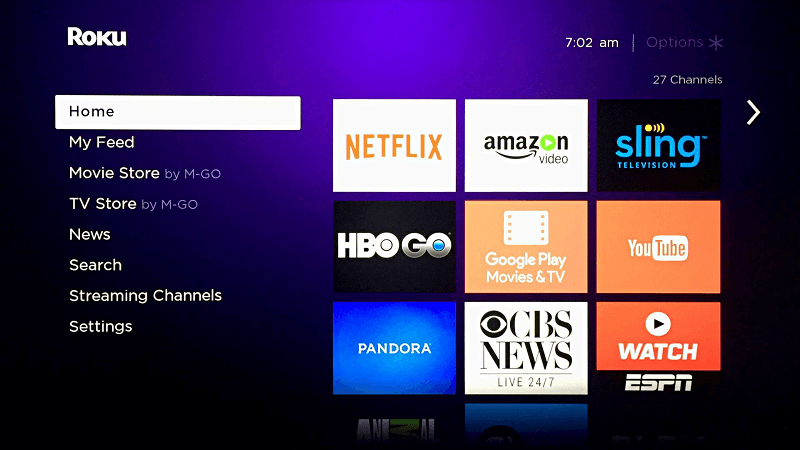 Here are some other cool features that are available to all Roku models.
Full 4K resolution support.
Search capability from vast content providers.
Shortcut buttons capability on remote for favorite channels such as Hulu, Netflix, HBO Go, etc.
Mobile app supports to cast personal media on your TV and Remote capability, you don't need to dive in the sofa-sea to find the remote, it's all on your mobile now.
Ability to use the Roku app as a mobile hotspot router while you log into Wi-Fi like hotels and dorms with your Roku streaming USB stick
Outside US? VPN For Roku places you everywhere
Everybody is talking about Roku, and it is great. But the greatness dulls when its vast content is geo-restricted to just the United States. But you can play around with geo-restriction and access the US content with a Roku VPN without it knowing.
If you want your Roku device to stream content from the US channels, you need to setup your Roku with a US Roku account and the best VPN for Roku.
How To Setup US Roku account
Subscribe to one of the Roku compatible VPN service from the list above and visit their site.
Make your purchase, and download and setup the client app on your computer or mobile device.
Connect VPN on a US server.
Visit https://owner.roku.com/ in your web browser and create a US Roku account.
In the process of registration, select United States in the country field.
In the ZIP code option, use an American ZIP code of 5 digits e.g. 10005, 92803, 90210, or Google for other ZIP codes.
Factory Reset your Roku device by pressing and holding the RESET button on the rear end of your Roku device for 15 seconds.
Upon restart, always log in with your new US Roku account.
Unfortunately, Roku does not have built-in VPN capability or Media Streamer DNS functionality on its devices. In order to use a VPN connection on Roku device, you need to either setup a VPN configuration on your router or use a VPN-enabled virtual router. Steps below will teach you how to do just that.
How To Setup VPN on a router?
Follow this guide to setup a VPN on your router.
How To Setup VPN Virtual Router?
Follow this guide to setup a VPN virtual router.
Conclusion
Roku is the best streaming device and an all-in-one-place solution of your favorite streaming shows and compatible with popular streaming services. However, due to its US catalog being restricted it dulls the shine of this device. Best VPN for Roku allows you to bypass the geo-restriction and let you watch your favorite channels at the right time without hassles.