24 Jul 2018
5 Best Most Secure Browsers For Your Devices
Internet surfing is immensely increasing particularly from a couple of years. With the emergence of such a huge content, people are more curious towards indulging themselves with the most popular ones. Unfortunately, laws such as Investigatory Power Act have introduced some serious threats to user's privacy which that could be evaded through some best & most secure browsers.
What Could a Secure Browser Do?
It is a well-known fact that nothing is fully perfect as there is always a way for malicious entities to enter, if not now then maybe in future. But you could not just think this way and ignore some serious privacy concerns. A most secure browser could enhance your privacy far better than the one you would face in a regular browser.
Most Secure browsers are incorporated with some advanced privacy features so that the users could browse securely. However, in this era, we could witness some upgrading in regular browsers such as Chrome, Firefox and Internet Explorer. With features such as Private Window or may be the option of 'Do Not Track', these browsers could also claim to be secure.
But, it's not sure that on which site your browsing preferences and other details are extracted and almost every site continues to store cookies. Also, a remaining fact is that your internet provider could always track your activity while you are in a regular browser. On the other hand, some best anonymous browsers could bypass such risks.
Best Anonymous & Most Secure Browsers 2018 – Vanish Browsing Privacy Threats
I have figured out some best & most secure browsers through analyzing the performance of all the top listed private browsers. Also, the article would regularly update according to the changing efficiencies of all these.

Tor Browser
Tor browser has now become a worldwide popular browser in terms of privacy. It is specialized in concealing your data through its hidden relay servers. It gives you anonymity against ISP tracking, malicious website cookies, and intrusive ads.
Although the performance of Tor browser is considered a bit shady with some recent revelations and analysis by the experts, it is still among the best & most secure browsers.
Tor is based on a series of relays that helps to keep your internet identity and traffic as hidden as possible. Due to a number of nodes, Tor browser may slow down your system speed but it's obviously far better to compromise speed instead of compromising your precious information.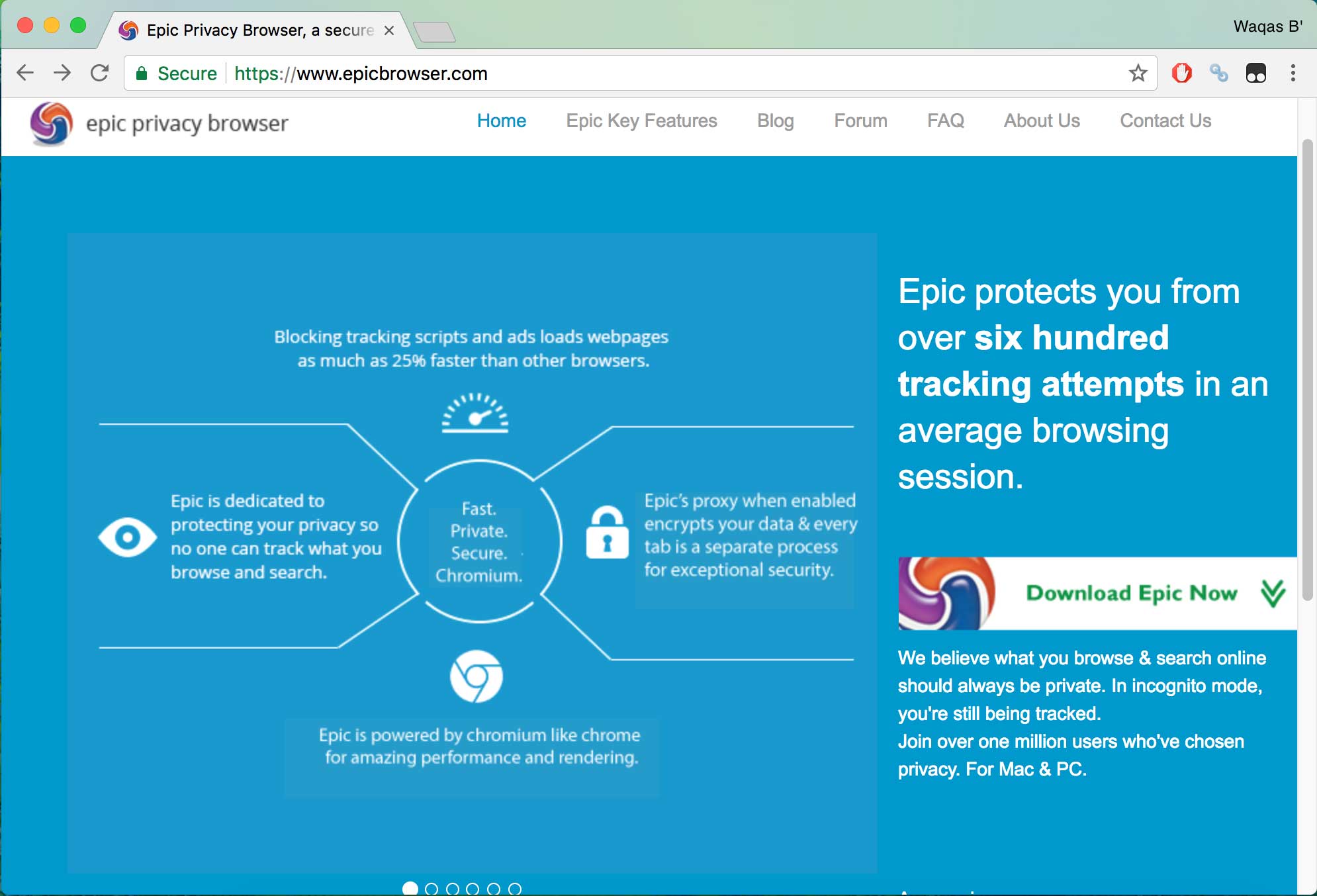 Epic privacy browser
Epic privacy browser is another amazing choice and my recommendation for best & most secure browsers. It is a chromium based browser which blocks data collection by eliminating all the cookies and trackers after every session of browsing.
As claimed by the browser, Epic has an ability to make user's system almost 25% faster by restricting page tracking. Also, they claim that the browser is able to protect users from more than one thousand tracking attempts in an average browsing session.
Epic browser proxies your searches through their own servers which means that you are never connected to an IP address for a search. Along with this, the browser is designed in a way that it prefers to connect its users to an SSL connection where possible. The ad-blocking feature makes further reduces the chances of being tracked.
Epic browser has an option of proxy for its users, which they could enable through a single button. It is an open source and is available for Windows and OS X.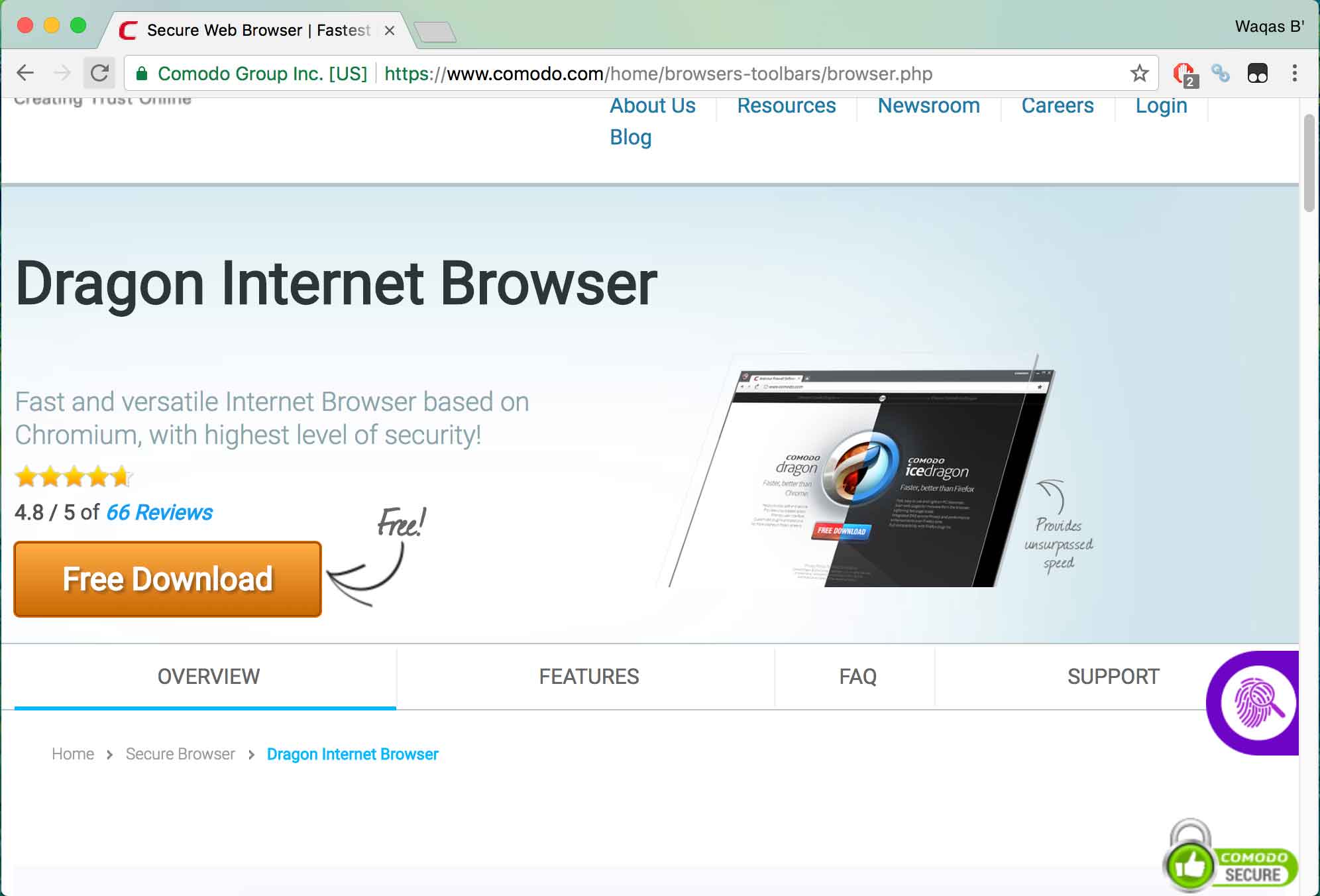 Comodo Dragon browser
Comodo is an internet security firm that offers various types of browsers; however, we have selected Comodo Dragon as the best & most secure browser. It is Chromium-based browser and incorporates some of the best Comodo-branded tools to enhance the browsing experience.
It makes sure that the site you visit has the SSL certificate and identity validated through the company's own SSL validation. It will come up to you with a pop-up notification if it finds the site malicious. It depends on the users if they allow the browser to route all the traffic from its secure and encrypted DNS. This could immensely improve the user privacy, making them invisible on the internet.
Also, the Comodo Dragon browser blocks all the third party cookies and other such malicious entities from loading.

Brave
It is a browser that has been introduced by the Mozilla foundation a few months ago. Although it's a relatively new browser but is amazingly devoted and is considered among the best secure browsers. A noticeable feature in this browser is that it doesn't slow down your browsing speed and also eliminates factors causing such issues just like tracking ads.
It is an open source browser that is available for Windows, Linux and OS X users. It also offers a respectable Chrome and Safari alternative. Brave browser encompasses the features of cookie restriction, ad-blocking, and HTTPS Everywhere integration.
One downside that a user might think is that the browser is relatively new and could have privacy lacks. But, a thing to mention is that they have an active developer community which is regularly upgrading the browser performance.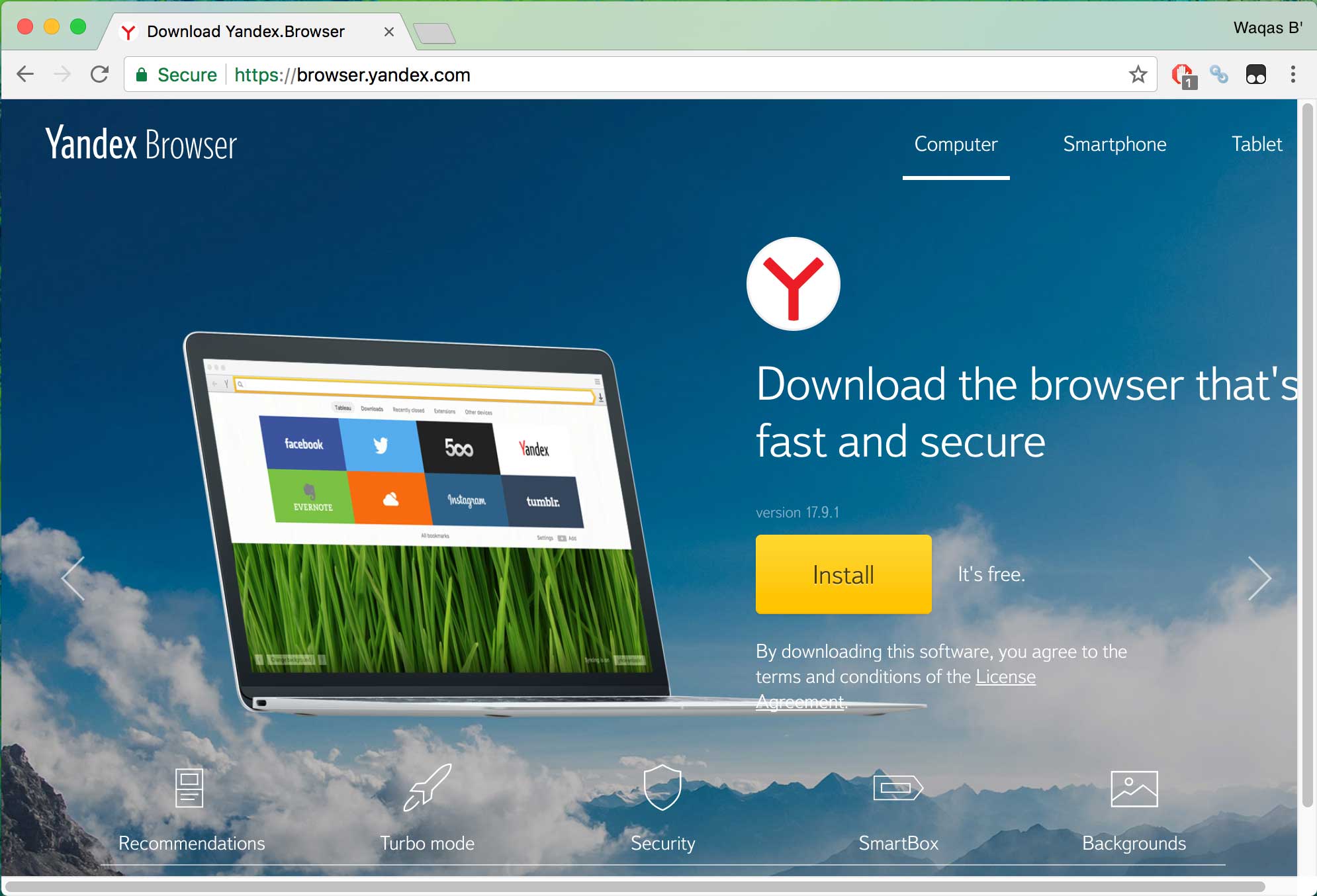 Yandex browser
Yandex is our last recommendation for the best secure browsers round-up. It could be an ideal choice for the ones who want a similar browser as their regular ones. This is because the Yandex browser takes up some features from the popular browsers.
It takes help from the Kaspersky antivirus in terms of enhancing its privacy by performing checks while a user downloads something. It takes a feature from Opera that is, Turbo technology which is used to optimize web pages that are using a slow or disrupted connection.
It protects the sensitive user detail such as credit card information and passwords through DNS spoofing. This feature could help to block the malicious websites and content if the user ever accesses them.
Final Words
Instead of letting your privacy into risk, you should use a secure browser to evade the potential threats to your privacy. As mentioned before, these browsers are not a guaranteed solution for privacy but they could make it a bit hard for data snoopers and trackers to intervene your browsing details.
However, for most stringent privacy you could try a VPN tool for yourself.