Features:
24/7 customer support
Fast servers in 25 countries
Best security & encryption
Unlimited bandwidth & server
Unlimited server switches
Unlimited speed
devices (Windows, Mac, iOS, Android)
30-day money-back guarantee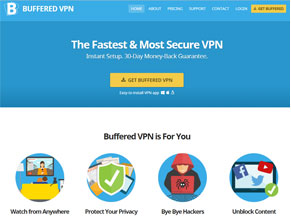 Starter
Monthly
Basic
$

12.99

Per Month

Money Back Guarantee

Choose Starter
Unlimited
Yearly
Recommended!
$

7.62

Per Month

Money Back Guarantee

Choose Unlimited
Detailed Buffered VPN Review 2018
This VPN service is relatively new on the market, but it comes with a lot of potential. The company is based in Budapest, Hungary and they invest continuously in developing their network and software, creating one of the fastest developments in the industry. Even more, they are not afraid of innovation and introduce a series of important features that any service should support.
Any users looking for a solution that will offer both privacy and good speed is definitely going to be impressed. The first time you come in contact with the Buffered VPN service, you'll notice that the site graphical interface is simple and attractive. This is a feature they passed along on their software so their clients are easy to install and understand. Even more, they support a wide network of servers located all over the world and impressive speed.
The best part is that the support team is highly professional and, regardless of your problem, your request will be solved quickly. Hoping that we caught your attention, let's get a bit more in-detailwith the Buffered VPN review.

Pricing Plan
Like most VPN services out there, Buffered VPN supports three different plans. All plans include all the available features like:
All available clients
24/7 customer support
Unlimited bandwidth and high speed
The difference between the plans is the time length of your subscription. Thus, if you are prepared to commit for a longer time period, then you'll save quite a significant part of your budget. However, you should know that all plans are covered by the "no-questions-asked 100% Money-Back Guarantee" for the first 30 days. This way, you can test this VPN service to its full potential before deciding to stick with them for longer.

All plans are quite affordable, which makes this service one of the best to try. As you can see, the most affordable plan is the Yearly Plan, where you only spend $8.25 per month. This means that you will be saving 36% in comparison to the Monthly Plan!
Keep in mind that, for the yearly or bi-annual plan, you will have to pay the entire amount at once. For example, if you stick with the Yearly Plan, you will be charged $99 every 12 months.
Payment Methods
The Buffered VPN review continues with the available methods for payment.As you've seen up until now, the process is quite simple and the final step is choosing the payment method (like with most online purchases regardless of the fact that they are software or not).
For now, the Buffered VPN service only supports two main methods of payment: PayPal and Credit Card. However, we think that, in time, they will start to accept methods that are a better fit for a VPN like BitCoin.

To avoid any data leakage or security breaches, all card payments are processed by Braintree, which is a Validated Level 1 PCI DSS Compliant Service Provider.

Significant Features of Buffered VPN
If up until now in our Buffered VPN review we've discussed more on how to get this service, now it's time to understand why. Following, we will discuss the features that make this VPN service one of the most popular choices in the whole word. Even more, according to their site, the service was voted the "Best VPN in the world". Now let's see why.

Servers & Their Location
Buffered VPN has servers in 28 locations all over the globe and the network is in continuous development. Users even have the possibility to request a location if they don't see the desired country on the list. The promise is that, the company will take your request into consideration and, when possible, they will add your location on their map.
Countries
Below is the list of countries they support and, as you can see, the most important ones (US and UK) are amongst them.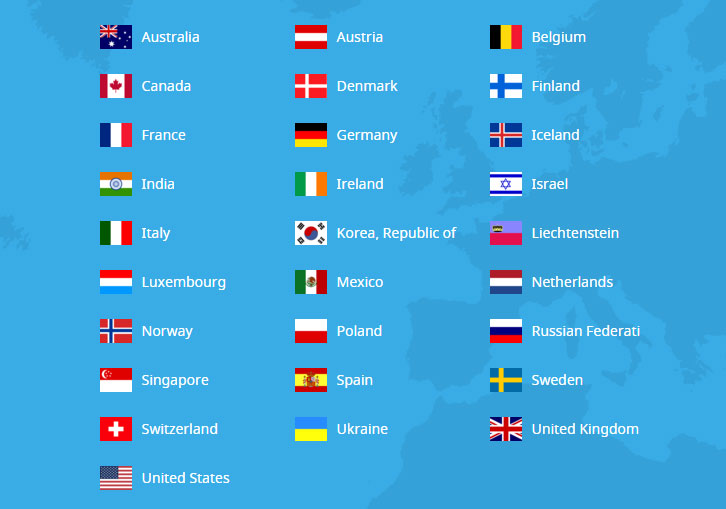 Watch from Anywhere
With Buffered VPN you don't have to worry about accessing public networks anymore. You can read your email by connecting to the local WiFi or you can simply watch an entire season on Netflix from the comfort of your home.
You are allowed to bypass local censorship and access online streaming services since you will be viewed as a local (your real IP address will be hidden).
Protect your privacy
Using Buffered VPN you will not only manage to securely access various networks, but you'll also get an increased level of privacy. You ISP won't be able to see what you're doing anymore and no governmental agency or hacker will be able to snoop in the secure tunnel created between your computer and the VPN service.
The best part is that the company is completely set on online freedom and respecting users' privacy. They prove this by implementing a series of innovations like the Discovery feature. This allows you to break protected public networks like the ones you find in a hotel or in the company you work. This feature identifies open ports and uses them to bypass any protection or limitation enforced by the network owner.
Speed performance
According to the company, the Buffered VPN service supports unlimited bandwidth and speed. This usually means that you can easily stream movies and shows at the highest available quality and download content without feeling any kickbacks.
While making this Buffered VPN review, we did some speed testing of our own, and we were quite surprised (in a positive way). The service outperforms most of the services currently on the market which puts them in the big league.
For example, at a regular down speed of 29.8 Mbps and an up speed of 3 Mbps, the result with Buffered VPN active was 28.1 Mbps for the download speed and 2.9 for the upload speed. These results are pretty good, considering that most solutions out there cut about 30% of your speed.
Strong Encryption
The Buffered VPN Company is definitely one of the players on the market that understand the individual users' need for security. That's why they fight to create a safe environment that can't be attacked or poked by any prying eyes.
The best part is that they stopped using the insecure PPTP and L2TP protocols and stuck only with the OpenVPN protocol. This is the best way they can focus on their clients' security without having to worry about problems from insecure protocols. However, this comes with a few limitations on older devices (we'll discuss this in another section of the Buffered VPN review).
Like every VPN service that understands real security and privacy they use shared IP addresses which means they won't be able to isolate the user in case they receive a takedown request.
Easy to setup
The client for the Buffered VPN is very easy to setup and use. All you have to do is download and install the software, connect to the VPN tunnel and enjoy.

5-Star Customer Support
On our Buffered VPN review we couldn't notice that the customer support is one of the best. A team made of highly qualified personnel is always online and ready to help customers or assist them in their issues.
Protocols
As mentioned before, Buffered decided to let go the insecure PPTP and L2TP protocols.Theymoved on to the most secure protocol on the market right now: OpenVPN. OpenVPN uses the OpenSSL library and a series of modern technologies to provide the safest tunneling system.
Even more, the protocol can be easily configured and, when setup correctly, it is quite difficult to identify traffic coming from such a protocol and block it. The increased level of security comes from the possibility to implement a wide variety of cryptographic algorithms like AES or Blowfish.
Buffered VPN implements a 128-bit encryption, which is the best choice when you don't want your security protocol not be compromised by the NSA.

Compatibility of Buffered VPN with Devices and OS
Once you decided to use the Buffered VPN service, you will be interested to know where and on how many devices you can use it. We asked this question for our Buffered VPN review and the answer is definitely very satisfactory. Any user can install the software on as many PCs and devices he/she likes and the server supports up to 5 simultaneous connections. This means that even a small company could use it.
The service supports all major PC platforms like Mac, Linux, and Windows. The general graphical interface is simple and anyone will know how to handle the connection.
When it comes to mobile devices, the client can be used on Android, but not on versions older than 4.x. This is due to the use of OpenVPN as the only available protocol. However, you can use the .ovpn config file with any of the modern browsers (Chrome, Mozilla, Safari, Firefox, latest versions of IE).
So, the use of this service is only limited by the device – if your device supports OpenVPN protocols, then Buffer VPN will definitely work.

Setup Tutorials of Buffered VPN
We will continue the Buffered VPN review with a few tutorials that will help you install the client on various devices. Other tutorials can also be found on their site.
Setup on Windows 7
Make sure to download the appropriate client for your Buffered VPN account and install it on your computer following the instructions on the screen. Once the installation is completed, you will be asked to login using your credentials.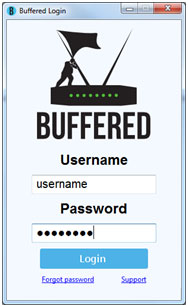 After login, all you have to do is click the country you wish to connect to and wait for the connection to be established. You'll see the IP address that has been assigned to you and the available speed in green once everything is setup.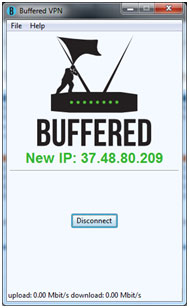 If you close the main window, you can always check your connection status and access menus, by right-clicking on the icon in the System Tray.
Setup Buffered VPN on an Android device
As long as your device runs Android 4.0 and superior versions, Buffered VPN will work correctly. The service offers two versions of OpenVPN for Android: one that allows for more settings and a slimmer, lighter version that only allows the user to connect and use the VPN. We are going to discuss the OpenVPN for Android (the larger client version), but the steps are basically the same for both.
To set it up, first download the OpenVPN for Android from the site, then follow these steps:
Connect your device to a computer using a USB cable and transfer the necessary .ovpn file to the device
Open the OpenVPN for Android interface and click on the icon at the bottom-right corner to import the config file you just transferred.
Browse for the file you just transferred and import it in the OpenVPN for Android client interface.
Once the import is completed (the client will display a log file), click on the Save button, in the bottom-right corner of the app.
At the first connection, Android will display a warning. Check the "I trust this application" checkbox.
If the connection was successful, you'll see a key icon in the task bar and a "Connected: Success" message.
Security and Privacy Policy
One of the most important parts of our Buffered VPN review is the discussion concerning users' security and their privacy. As mentioned before, the service only uses one of the most secure protocols: OpenVPN – this won't work on older devices, but most modern devices accept it so there shouldn't be a problem.
When it comes to their Privacy Policy, the fact that the company is located in Hungary is of great help. This means that they are out of US and UK restrictive policies and prying eyes. Even more, UE recently announced that ISPs are no longer bound by law to keep records of traffic usage which means Buffered VPN won't either.
According to their Policy, no usage traffic logs are being kept.
In Conclusion
At the end of our Buffered VPN review we can definitely state that, if they continue in the same rhythm, this service will definitely maintain its place in the big league. They are at the beginning now, but they intend to enlarge their server network and create centers that will help in maintaining great speed and service.