Detailed Hidemyass Review 2018
HideMyAss is now one of the most popular and biggest Pro VPN service providers around the world. They have achieved this position in the present market because of their highly useful features, quality service and largest server span. In addition, they continuously enriched their server locations by adding new one in a weekly basis. They are mainly UK based company that is connected to the technical community. After going through with the whole HideMyAss review, you can realize what more additional features and services make it a top position VPN service provider.
At a glance HideMyAss review
HideMyAss is having a huge presence in the VPN market based in UK. They provide a range of tools which protect user's online privacy, free of cost. All applications on your computer that are utilized by user are over internet connection anonymously with just a click in few seconds. Easy to use software of VPN helps you to work without having any technical knowledge. Enjoy internet freedom and anonymity knowing that your sensitive web traffic is securely hidden behind 71'000+ IP addresses located in 138 locations in 65 countries.  Before the complete review of HideMyAss let's go through what VPN is.
HideMyAss is one of the popular on the internet, due to some interesting features that users will find with VPNs. It performs far much better than native Internet browsing. Before subscribing this service for once just have a look to its complete review, so that you may find the reason of its popularity.
Pricing Plan of HideMyAss
As like as other VPN service provider HideMyAss offers 3 different pricing plan for their subscribers of the different budget. You can choose the best-suited one that meets up your criteria.

Monthly package of the HideMyAss which is also known as kick-ass costs only $11.52 per month.
The half-ass package of HideMyAss is for 6 months subscription and is available at $49.99. So you have to incur only $8.33 per month and can save $3.19 than the kick-ass package. In this package, you will get a 28% discount.
The 12-month package provides the best economic package of the HideMyAss, as you get it with only $78.66 for the whole year. If you go with this smart-ass package, you need to cost only $6.55 per month. So if you subscribe to this savvy package, you can save $4.97 than the monthly package. Moreover, this package offers you a 43% discount.
Payment Methods
HideMyAss offers a great number of payment methods to subscribe their packages. This HideMyAss review let you know about these methods. These are
Credit Card
Paypal
Bitcoin
Bank & Wire Transfer
HideMyAss gives the facility to renew your subscription automatically and you can avail this facility if you choose "Credit card" or "Paypal" as your payment method.
Striking Features of HideMyAss
Servers & their locations
HideMyAss comes with a giant and impressive server list that includes more than 890 VPN servers. These servers are spread over the 340 locations of 190 countries across the world. Using the huge server locations their subscribers can easily connect to their desired one ignoring every geo-restriction. Most of the servers of the HideMyAss are located in the US that includes 391 servers and European countries includes 280 servers.

Secure IP Binding Tool
With this advanced feature of HideMyAss VPN service provider, you can bind any specific application on your Windows devices to be connected through only the VPN. Suddenly, if you become disconnected from the VPN, this time Secure IP Binding Tool stops the application to be connected on the internet. So your genuine IP address will not be disclosed and your anonymity is highly ensured. To use this feature on your Mac devices, you need to configure your firewall.
Dynamic shared IPs with specific interval
This is an exclusive feature of HideMyAss Pro VPN which is provided to you through its more than 121060 dynamic shared active IP addresses. It gives you the advantage to select a specific interval and then IP address is changed to a new one by the software application automatically. So you can easily change your IP choosing your desired one. Now it is quite easy to be anonymous within a moment with HideMyAss and no need to keep with the same IP for a long time.
Load Balancing
When all the users of VPN services are connected using a specific server, it becomes excessively loaded. This time speed of the particular server is decreased after a certain time. So HideMyAss comes with a load balancing feature that transfers your VPN connection to a shortly loaded server. Of course, this transformation is made following your preferred regional setting. So that you will be able to enjoy a faster speed than before.
30-day money-back guarantee
HideMyAss offers a 30-day money back guarantee for your complete satisfaction with their services. If you are not satisfied with the service of this product, there is a 30-day refund policy to get back the purchase amount fully. By this feature, it can be easily understood that how much they are confident about their services.
Device Compatibility of HideMyAss
HideMyAss offers you a great device compatibility. Usually, many VPN services may be compatible with your desktop or laptop, but it may not adapt with your handy devices such as android mobile, tablets, iPhone, iPad etc. But this VPN service ensures that it is compatible with all types of the popular devices. This is also easy to configure the HideMyAss on the different version of Windows, Mac OS X, Linux.
Not only this VPN service comes with user-friendly application for desktop, laptop or Macbook, it also provides highly convenient apps for iOS (iPhone and iPad) and Android devices. You can easily install these user-friendly apps in your devices.
Protocols
HideMyAss allows their users to use PPTP, L2TP and OpenVPN protocols and if they use OpenVPN protocols, both TCP and UDP protocols are supported. Different types of protocols provide the different level of encryption level. When HideMyAss uses PPTP protocol for the encryption purpose, deal with MS-CHAPv2 authentication and MPPE 128bit cipher. For L2TP uses IPSec-256 bit encryption key and 3DES/AES algorithm and for OpenVPN uses 128-bit Blowfish with CBC mode, 160-bit SHA1 hash algorithm.
Setup Tutorials of HideMyAss Pro VPN
In this HideMyAss review, you get an elaborate idea on how to set up HideMyAss on the different version of Windows and Mac. This is presented step by step, so you easily realize the whole process.
Manual Setup on Windows Vista/7/8 with PPTP
Step 1: Go to the "Network and Internet" option from the "Control Panel".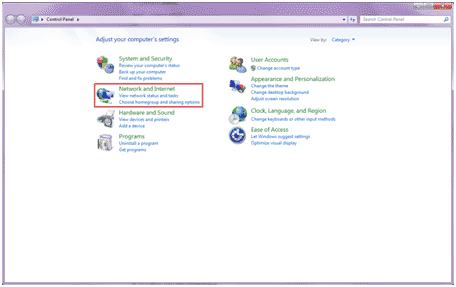 Step 2: Click on "Set up a new connection or network"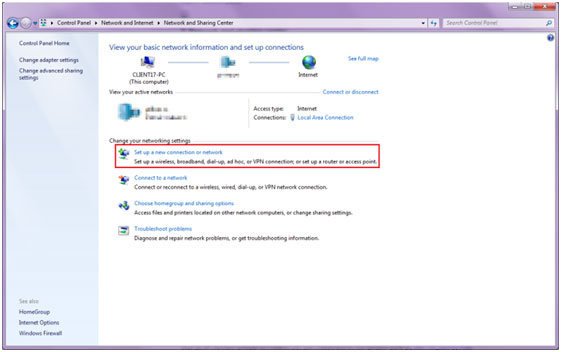 Step 3: choose "Connect to a workplace" and then press the "Next" button.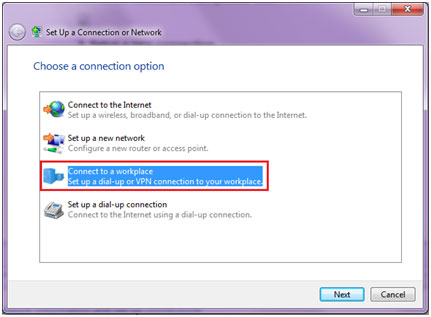 Step 4: Choose "No, create a new connection" and hit on "Use my internet connection (VPN)". Then you have to insert the "Internet address" and "Destination Name". In the "Internet Address" box, put any IP of the VPN server that you will get on the "Software & Help" section of "VPN Control Panel". Then press "Next".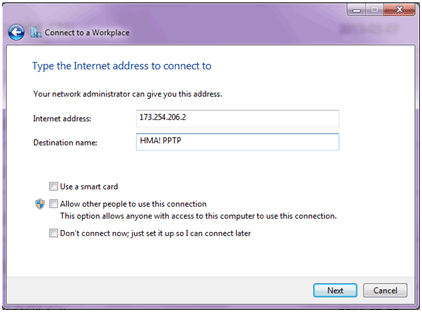 Step 5: Enter your "Username" and PPTP Password. Keep in mind that this is not your account password, this special PPTP password you will find on the "VPN Control Panel". Then finally press on "Connect" button and be connected to the HideMyAss Pro VPN.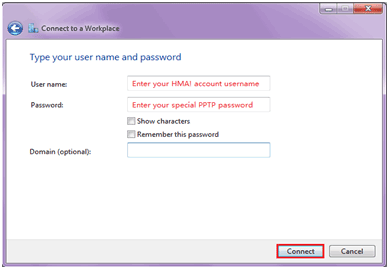 Manual Setup on Mac with PPTP
Step 1: Go to the Apple icon and click on "System preferences".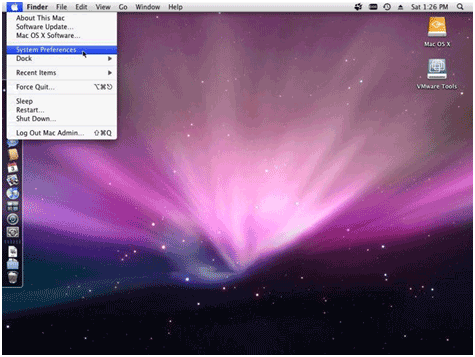 Step 2: Choose "Network" from the "Internet & Network" section and press on "+" icon.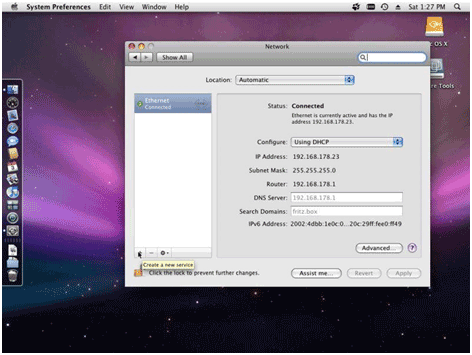 Step 3: Then choose "VPN" from in the interface box by clicking on the up-down arrows.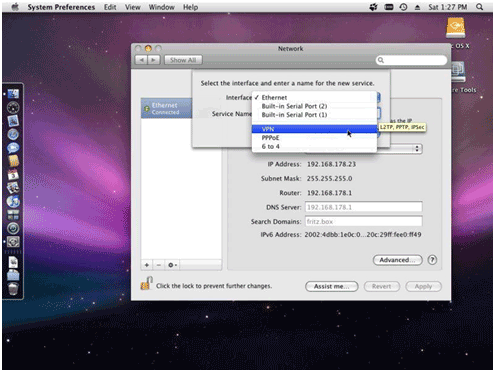 Step 4: To create PPTP connection, select "PPTP" in the VPN type box or if you want to create L2TP connection, select "L2TP over IPSec". Then type your connection name in the "Service Name" e.g. "HMA VPN". Now press the "Create" button.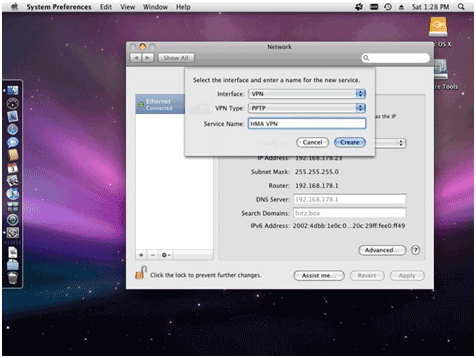 Step 5: Then on the new window insert any server IP in "Server Address" box, this address you will get on the "Software & Help" section of "VPN Control Panel".
In the field of "Account Name", put your HideMyAss Username. Then check the box of "Show VPN status in menu bar" and click on "Authentication settings".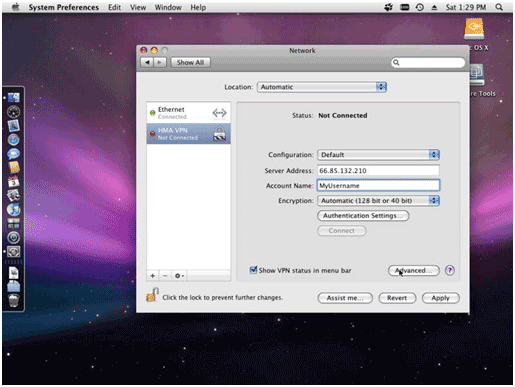 Step 6: Insert your PPTP Password in the "Password" field. Keep in mind that this is not your account password, this special PPTP password you will find on the "VPN Control Panel". From the "VPN Control Panel" choose "Software & Help" and press on "View" and "Manually set-up VPN – No software".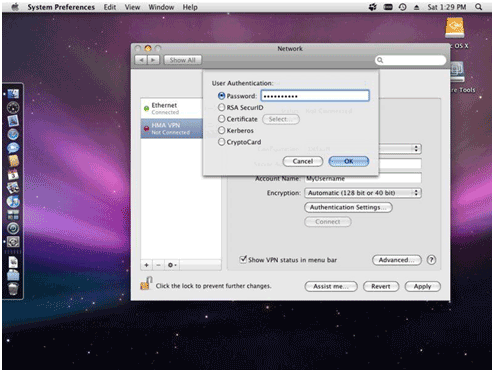 Then click on "OK" and proceed by clicking on "Advance" in the user authentication page.
Step 7: After clicking on "Advance" you must check the box of "Send all traffic over VPN connection". Otherwise, VPN would not have any impact on your Mac device. Now press on "OK" and go back to the network page and hit on "Apply".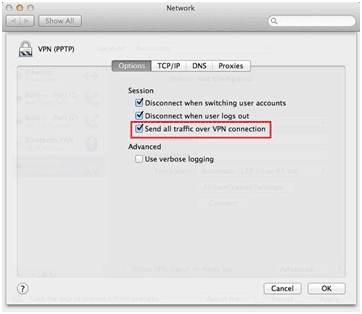 Step 8: Go to your desktop screen and at the upper right corner find network icon and click on "Connect HMA VPN" to be connected to your VPN services.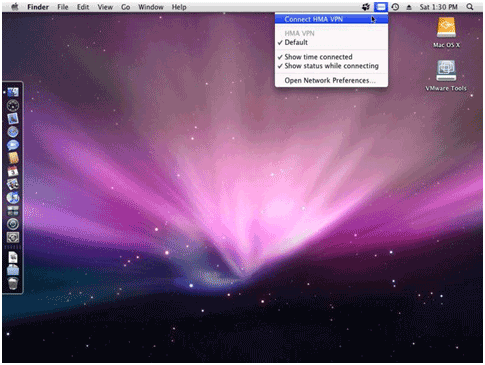 Security and Privacy Policy
If a VPN service provider provides their service with high speed and at a great price, but unable to provide complete security and privacy of their client's internet connection, the services will be worthless. So as one of the top Pro VPN service providers, HideMyAss gives more priority on this issue.
For the purpose of assuring more security HideMyAss allows all the required and generally used protocols like OpenVPN, PPTP and L2TP. Moreover, it accepts both UDP and TCP connections for OpenVPN protocol. Both of these two connections of OpenVPN offer 128-bit encryption, although OpenVPN with UDP is the most recommended protocol for its fast speed and high security. HideMyAss also implements PPTP with 128-bit encryption and MS-Chap version 2 authentication and allows 256-bit L2TP key encryption with 3DES/AES algorithm.
Since HideMyAss is UK based company so they have to keep few logging information of subscribers and this data is only retained for the purpose of handling legal authorities, if any suspicious event occurs.
Customer Support
This HideMyAss review gives you the complete idea about the customer support of HideMyAss. There are a good number of methods are available to provide satisfactory customer support.
Email (Support Ticket)
You can get HideMyAss services through their support ticket email system. In this process, you need to go their help page and write down the whole issues considering the nature of the query. Within 24 hours, you get the answer of your issues or queries.
Blog & Community
On their blog, all new services about HideMyAss are updated regularly with the existing topic. So you can get your required info on this blog. Moreover, you can also discuss your problem with the current users on the forum of HideMyAss.
Support Page
To provide harass free customer support, HideMyAss have enriched its website with very informative and useful Support page. You can get most of the solution of your issues go through to this page.
Live Chat
HideMyAss provides the facility of live chat for 12 hours in a day. If you face any problem without this time, you can go with the other options of support.
Unique Selling Proposition
This HideMyAss review helps you to find the unique selling proposition of that product. So that you can easily take your decision whether you should go with this VPN service or not. These unique services are
The key feature of the HideMyAss that makes it as a dominating VPN service provider in its industry is the largest server span across the world. The server included 890 servers at 340 locations in 190 countries.
You can try this product through 30 days, if you are not satisfied then you will be refunded. So there is nothing to lose.
Conclusion
Without any doubt, it can be stated that HideMyAss is a highly recommended VPN service provider since it is continuing their leading performance from the beginning. Although you can raise an issue regarding the live customer support, but if you are looking at their enriched website from which you will be able to get the answer of your maximum queries. To be more sure about your investment, just give your incisive look on the HideMyAss review more consciously