The news of Kickass Torrents shutdown after the arrest of the owner of KAT Artem Vaulin in Ukraine shocked millions of  KAT users and raised an unpredictable panic among all the Torrent users and Torrent community at large. This unfortunate incident created the urge for all the Torrent lovers to find another options to resume their download media addiction, keeping that in mind we have compiled here the list of top 4 alternatives you can use while KAT is banned.
BEWARE OF THE MALWARE:
These clones websites we mentioned above are not credible and might contain malware. Use them at your own risk!
Recommendation
You can use
IVacy – $2.50/m
 Or
NordVPN
 which will secure your downloads and keep secure your Devices
Clones on Kickass Torrents
Update: January 2017: Kickasstorrent is back with the official staffers and new domain is http://www.katcr .to/new Copy paste this in your browser. Dont forget https://.
Here are the three clones of the original KickAssTorrents website all of them are still fully operational and provide access to all torrents lately hosted on the original KAT. cr website.
kickasstorrentsan.com
kickasstorrents.to
kickassbay.com
kickass.cd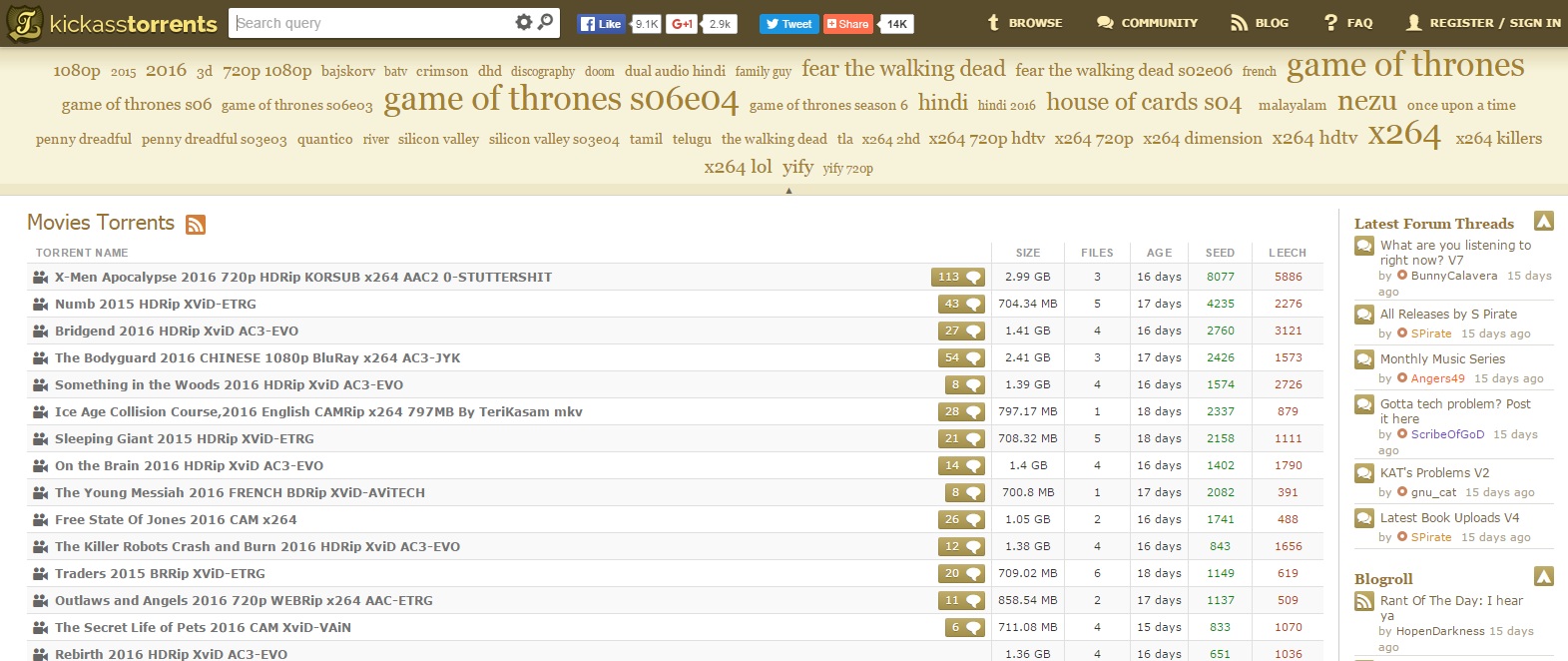 Being the official backup of the Kickass torrents website http://KAT.AM is complete with user and torrents databases intact. Our team of experts have tested the domains' using a VPN and got the access of fully functional websites from different regions like US, UK, Canada, Germany and Australia. If your ISP restricts the access of Torrenting website, just use a VPN services to access these websites by a different location by changing your current location using a Torrenting VPN.
1337X
Many uploaders and torrent-ers have shifted to this website. The website has an extensive database of latest and updated torrents. You can find HD movies and TV shows. The website evades copyright trolls with its multiple domains. The website is active and keeps on updating its platform for torrent-ers.
Extratorrent
Extratorrent is the second largest torrent site after KickAssTorrent. It has by far the most extensive and updated catalog of torrents. Many known uploaders are active on this site to share their releases and encodes. You can find latest and oldest content over this website with good seeding capability.
RarBG
RarBG is one of the oldest websites from the times of the Pirate Bay. RarBG is the active portal and keeps its catalog updated. RarBG team encodes its releases for the movies and TV shows around. You can add it to your list of top torrent sites choice.
EZTV
EZTV is another choice for torrenting purposes. It is also an active portal for TV shows and movies. EZTV has its own encodes on this websites, so you will get the best quality of their release. You can easily find the old and latest TV shows on it.
YTS
Home for official Yify Movies. You can download all the latest and old movies from this portal with a great amount of seeds, so speed is not the issue with this website. It has its own subtitle database and encodes, so you will always get the blu-ray rip from here.
Secure your Torrent Downloads by using a VPN
[table_headings][feature_item_11][feature_item_28][feature_item_20][feature_item_4][feature_item_5]
Despite of the millions Torrent users all around the world many regions in the world have put ban on many Torrent websites because of DMCA and other copyright laws, so using a VPN is must for security and privacy and to keep your activities and online details away from all the prying and spying eyes, in a world or surveillance and monitoring who can deny the value of a VPN. We here have listed top VPN services to protect you online and give optimum privacy and security by hiding all your internet data and your IP address and provides you safe access to Torrenting websites and all the other content and websites that your want to access.
Use VPN for Torrenting and Be Safe
VPN is a tool for internet security and privacy which helps to hide your online identity and activities over the network. The benefits of using a secure and reliable VPN service are endless, but in case you love downloading Torrents then a VPN is a must for you for a secure download so that no prying eyes can track your online activities. Ever wonder how the alleged owner of KAT Artem Vaulin is caught? The answer is simple he made a simple mistake of not using a VPN while purchasing something on Apple iTunes and his IP address was tracked and detected as same as he used for KAT and was also listed on Facebook. When Apple, Facebook, the ISP has confirmed the personal details to FBI, by that time Artem Vaulin was already identified by FBI and then we witnessed his arrest, so by this you can imagine the importance of using a VPN and hiding your original IP address and login details so no spying and prying eyes can ever track you online and especially if you use Torrenting website then it is as necessary for you as water for fish.
Final Thought
We have done all the research and work for you so you face none difficulty finding the other option while your favorite KAT is banned, hope you find the substitutes useful and enjoy downloading from the huge libraries we mentioned, don't forget to be safe and use a VPN while downloading any torrent to be safe and secure. Happy Torrenting!