Detailed PureVPN Review:
If you are expecting a high feature-enriched VPN service provider with an amazing price that easily suited with your budget, then PureVPN is the prime choice for you. Its high-quality services with minimum price give a forefront selling in the VPN industry. PureVPN offers you some exclusive features that are rarely found in the other VPN services and these are DDoS Protection, Split Tunneling, StealthVPN Browser, NAT Firewall, Internet Kill Switch, and Smart DNS. In this PureVPN review, you will get the detail about this optimum VPN service provider.
Pricing plan:

PureVPN comes with some quite satisfactory and reasonable pricing packages. They offer 3 different packages with different prices. You can select the well-suited one, considering your budget line.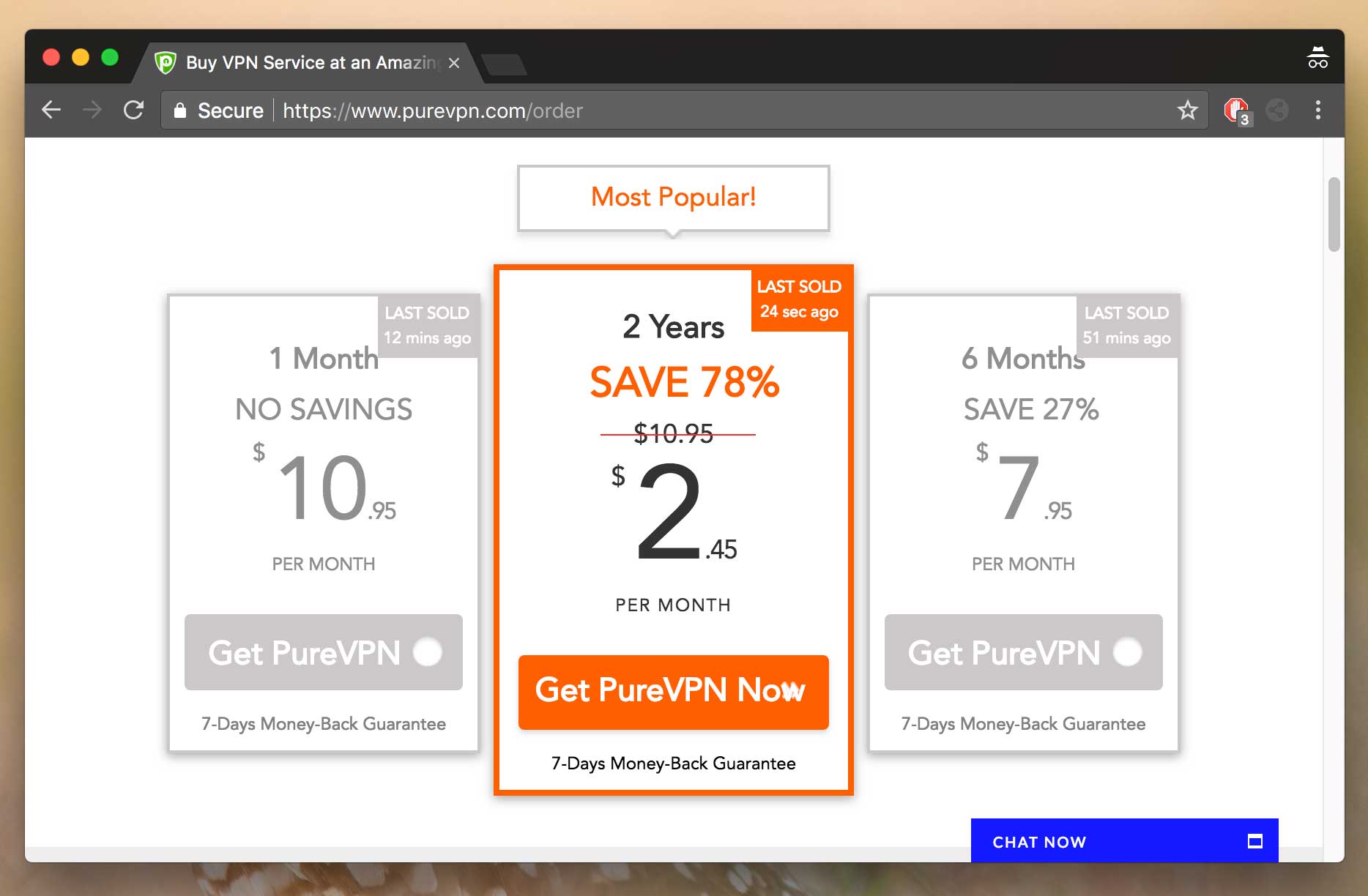 The most basic package offers 1-month subscription at $10.75. PureVPN is providing a distinct offer to their customers by its discount coupon. If you subscribe to PureVPN with the 1-month package, you get a 16% discount.
Next package is for 6 months subscription that costs only $48.00 in a total. You need to spend only $8.00 per month, so you can save more than $2 comparing to the 1-month package. Because of the PureVPN discount offer, you are getting this package with 33% less price than their regular package.
The best economic package of the PureVPN is its 1-year package. You can subscribe to the package with only $59.88. So you have to pay only $5.75 monthly. It's a great beneficial package for you because it will consume more than$5/per month. With this package, you will also get a discount of 58% than their regular one.
Payment Methods
PureVPN offers you a great flexibility to choose a payment method. It allows a number of payment methods to be subscribed to their services.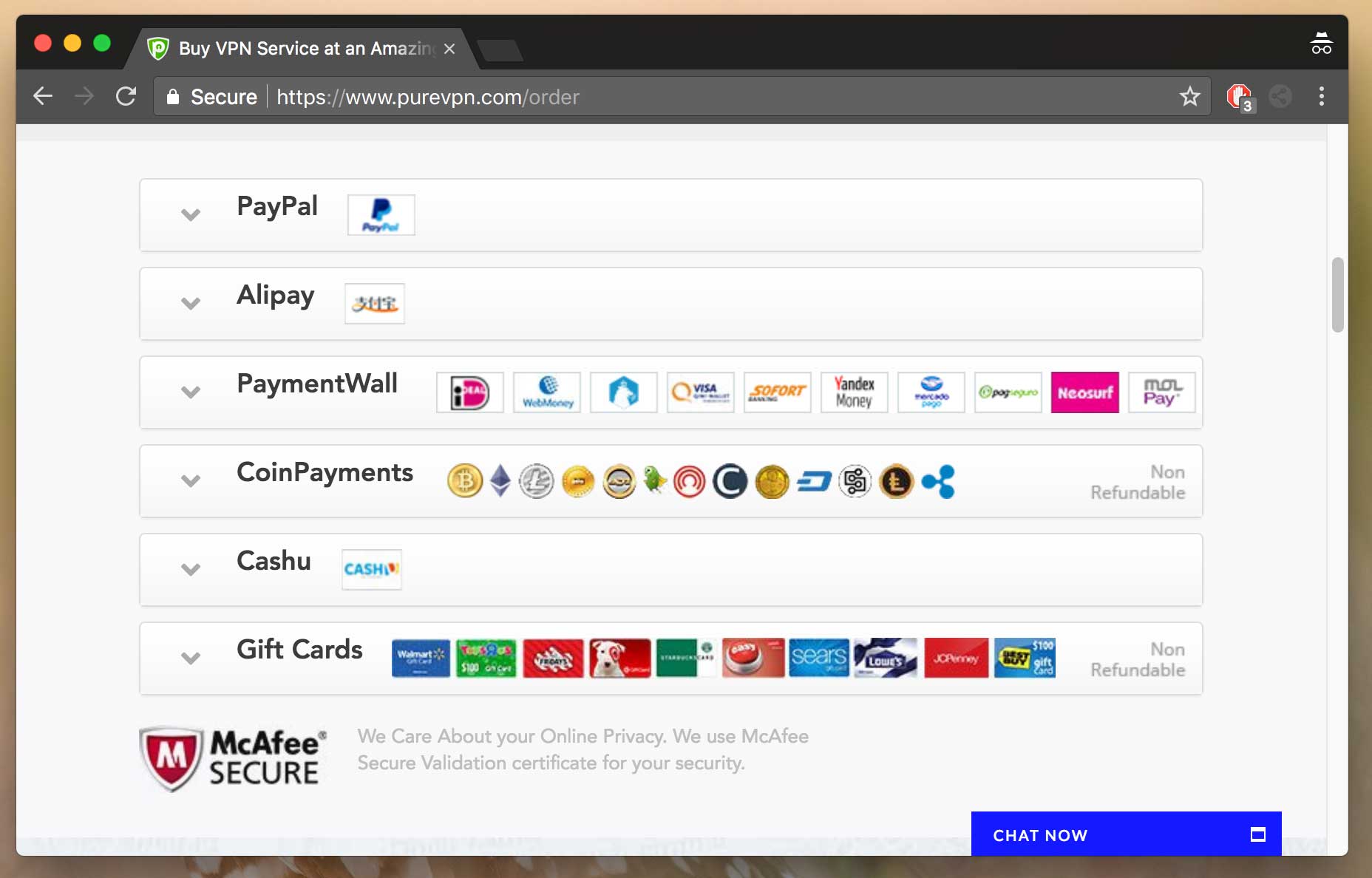 SignificantFeatures of PureVPN
Servers & their locations
PureVPN servers are spread over more than 140 countries around the world. It has over and above 500 servers in those countries. Most of their servers are located in the UK, US and Australia etc. learn more about VPN Servers
Countries
The PureVPN servers are located in the following countries. This PureVPN review includes the following image to help you knowing the exact server location of PureVPN.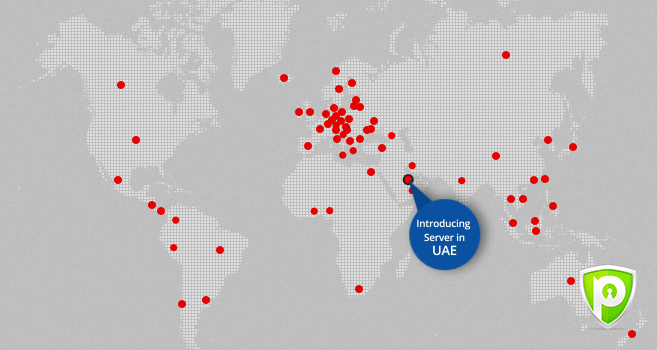 Ultimate Internet Security
PureVPN provides a reliable protection and defense for the users with its complex protocols and a strong 256-bit encryption. So, this works as a safeguard of your personal data from theft and malicious intentions. It allows you to surf the internet in any unsecured locations like as coffee shops or other vulnerable areas without compromising your safety and security.
Speed Performance
The most important feature of the VPN service provider is its internet speed after installing the software. Almost every VPN service affect the internet speed, because of multiple routing destinations. So, VPN performance can be judged considering the minimal decrease of the internet speed.
Evaluating the speed test of PureVPN over different protocols compared to without using VPN we got – an average download speed of around 9 Mbps without using VPN and after being connected through PureVPN we observed a reduction of around 1 Mbps (9-14%), which is negligible in the VPN industry.
PureVPN speed is quite satisfactory using all protocols- OpenVPN, PPTP and L2TP/IPSec. The following images give you a clear idea about it.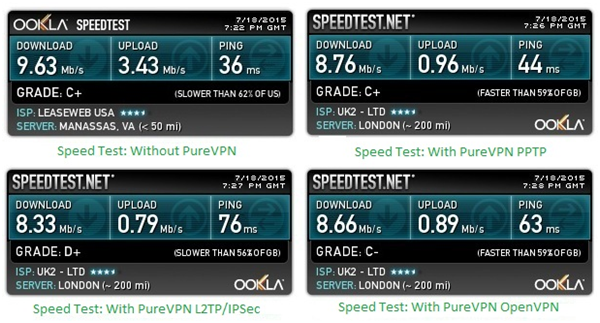 Split Tunneling
PureVPN is only the VPN service provider that offers this distinguishable feature of Split tunneling. This feature allows the PureVPN users to route some traffic over the VPN tunnelwhile other traffic will access using the direct internet connection.
StealthVPN Browser
The StealthVPN Browser feature helps you to browse the internet without keeping any browsing history, cookies and caches. It is especially helpful for the highly restricted censored countries.
7-day money-back guarantee
PureVPN wants to make you confident about the purchase. So they offer a 7-day money-back guarantee for your complete satisfaction.
Dedicated IP & Streaming
PureVPN Provides dedicated streaming for an extra-fast &an uninterrupted accessibility to the hundreds of your favorite channels. After acquiring the add-on at $4.99 / month, you areallowed to be increased your speed by (approximately) 20 MB/s. PureVPN also offers a dedicated IP facility for 4.99$ / month. Thus, you are allowed to use either a fixed IP ora dynamic IP.
Protocols

PureVPN offers you to choose from different protocols to satisfy your security requirements and to keep your online activity hidden.It provides you access to five protocols -OpenVPN, PPTP, L2TP/IPSec, SSTP and IKEv2.These protocols allow you to bypass censorship and restrictions that are imposed in your area, so that you can enjoy all the freedom that the internet can provide. SSTP mis the most secures and safest protocol than PPTP and L2TP/IPSec because it can't be blocked by your Internet Service Provider (ISP).
Compatibility of PureVPN with Device and OS
PureVPN has the high-level eligibility to compatible with all popular devices and operating systems. Usually, many VPN services may be compatible with your desktop or laptop, but it may not adapt with your handy devices such as android mobile, tablets, iPhone, iPad etc. But this VPN service ensures that it is compatible with all types of the popular devices.
Its custom software has been designed using simple and easy features. So the people, who are not used to with manual configuration, are also allowed to use it on the different version of Windows, Mac, Linux, iOS and Android. In addition, you can run PureVPN on the router or gaming console. To install on these devices you can have the setup tutorials from their websites.
With a user-friendly application for desktop, laptop or MacBook, it also provides highly convenient apps for iOS (iPhone and iPad) and Android devices. PureVPN software and apps are preloaded with an Automatic Protocol Selection feature.
Its all advanced features like split tunneling, DDos, Malware protection and Internet Kill Switch are also compatible with Windows, MAC and Linux. The one more amazing thing of this VPN service is that it provides customized software for different operating systems for ensuring fast speed and best quality.
Setup Tutorials of PureVPN

This PureVPN review presents to you the step by step procedures of installing the PureVPN on Windows 7 / 8 / Vista, Mac, Android and iOS devices using the PPTP and L2TP security protocol.
Manual Setup of PureVPN on Windows 7/8.1/10 with PPTP | L2TP | SSTP
Here you will get the step by step procedure to install the PureVPNon Windows 7 / 8/8.1 using the PPTP, L2TP/IPSec and SSTP security protocol.
At first, go to the "Control Panel" option from 'my computer' and open "Network and Internet".
Then click on "Network and Sharing Center" button.
Create a new connection from the "Setup a New Connection or Network" button from the "Change your Network Settings" option.
Select "Connect to a Workplace", afterward click on the "Next" button.
Select the "Use my Internet Connection (VPN)" option.
Fill in the Internet address and destination name provided to you by your network administrator.
Enter 'PureVPN Connection' in the "Destination Name" box.
After subscribing to PureVPN, you will receive an email from them.
Just Click on the link in that mail to get the 'User Name' and the 'Password' and log in from the official website of PureVPN. If you want to save your password, tick the "Remember this Password" box.
Now press on "Close" and "continue".
Thenpress on "Network and Sharing Center" option and on the above of "Change Adapter Settings" you will get a "Link".
Now, on your system tray, right click on the 'Computer Icon' – you will find the PureVPN Connection.
Go to the 'Properties' by making a right click on it. Enter the Server Name of the PureVPN.
Go to 'VPN Connection Properties' and click on the 3rd tab 'Security' and select your preferred Protocol from the drop down-menu and then Click 'OK'.
When you will hit the 'Connect' button in the PureVPN connection option, it will ask for. 'User Name' and 'Password'
Just put the 'User Name' and 'Password' provided by the Pure VPN team and press 'OK'.
Manual Setup of PureVPN on Android with PPTP | L2TP
Go to the "Settings" from your android mobile/tab and select more settings.
Then you will find "Wireless & Networks/More Wireless".
Selecting the "VPN", click on "+" icon to create a new account.
When the dialog box of login is shown on your screen, put your "Username" and "Password" that you have received from the PureVPN over mail.
Then choose "PPTP or L2TP/IPSec PSK" as a protocol type.
Choosing a server location, select the "Set VPN Server" option and then insert your desired address.
Select the server location and type "12345678" as the L2TP/IPSec pre-shared Key. And for PPTP User, Un-tick the 'PPP encryption (MPPE)' option and then click the "Save" button.
Now go to your VPN profile and put "Username" and "Password".  Then click on "Connect" to be protected from hackers and spies.
Congratulation..! So, you have setup PureVPN for your Android devices. Enjoy secure surfing with your PureVPN.
Security and Privacy Policy
The main purpose of a VPN service provider is to ensure complete security and privacy of their client's internet connection. If this issue has become questionable then, the services will be worthless. So as a most professional VPN service provider PureVPN ensures this issue with utmost faith.
For the purpose of ensuring 100% security of your online activities, PureVPN supports all the required and standard protocols – OpenVPN, L2TP/IPsec, SSTP, IKEv2. PureVPN provides these protocols with 256-bit encryption to ensure the excellent military-grade safeguard of your online activities information. Moreover, a new IP address will be assigned when you connect to the PureVPN that masks your online identity.
A unique feature of StealthVPN Browser is included to PureVPN for ensuring more security. It especial browser assures you that no browsing history and cookies of your internet usage are retained.
It is clearly stated in the PureVPN websites that they don't provide any data of your VPN account to any third party. Moreover, they only retain very little information about your account that include Name, Phone number, Email address, Operational logs, IP addresses and Operating systems. Thisinformation is kept for the purpose of sending your login information if you forget this, to inform you about new packages and discount offers and further development of VPN industry etc.
Customer Support

This PureVPN review gives you the complete idea about the customer support of PureVPN. They always ensure quick and smart customer support. Furthermore, their website is highly informative and designed in such a convenient and clear way so that you can easily find your desired information. They enlighten relevant, user-friendly and straight forward information on their website with step by step setup guide of different mobile devices, operating systems, gaming devices and many more. You can also find their customer services through-
If any queries or issues are raised regarding the PureVPN's services, their knowledgeable,trained officers are always available at the customer support to solve all the problems of youin 24/7/365 live chat.
To provide harass-free customer support, PureVPN has enriched its website with very informative and useful Support FAQs with the tag of "Top PureVPN's FAQs" and "Top SmartDNS's FAQs". You can get most of the solution of your issues go through with these FAQs.
Unique Selling Proposition
This PureVPN review helps you to find the unique selling proposition of that product. So that,now you can easily realize the best value of PureVPN. These are-
The Split-Tunneling tool is an innovative and unique feature that is rarely found in the VPN service providers. Here, PureVPN is the proud provider of this service and obviously it's a unique selling proposition forthem.
Get the high-quality service with an amazingly low price.
 Conclusion
In this PureVPN review, you have got a thorough analysis of its distinguishable features, benefits, speeds, optimum security with its most outstanding pricing plan. Although it's your personal choice that which VPN service you will choose, but after going through this PureVPN review you won't keep this oneaside. At the time of subscribing to this reliable and less pricey VPN, the most considerable thing is that it has 1 Million+ Satisfied Users around the world.