VPN is one of the best ways to encrypt your internet traffic. However, in doing so, it reduces your speed in the process of encrypting and parsing the data between encrypted tunnel. Sometimes, the speed on one server is unbearable, and blazing fast on the other. The question arises, which server to choose? There are various methods to check the VPN speed tests.
Why do you need to test your VPN speed?
We all want fast internet, and free of interruptions. Slow internet connections frustrate – especially when you're streaming your favorite TV shows, downloading large files, or doing a video chat with your friends. You need VPN speed tests to:
Check download speed
Find and select the fastest servers of the VPN service so you don't have to wait longer.
Be sure that you're getting connected to the fastest servers available to you.
Why are some VPN servers slow?
The speed of a VPN server depends on two major factors. First, the distance between you and the VPN server, higher distance reduces the connection speed. Second, how many people are connecting to that VPN server, more users on that server tends to reduce the connection speed and sometimes connection drops. Therefore, VPN speed tests save your time from testing different servers every time.
How To Use The VPN Speed Tests
There are two common ways through which you can check the speed of your VPN.
Speedtest.net
Speedtest.net is a website to check your internet connection speeds. It tests your connection speed by transferring data between your internet connection and its own servers. A figure depicting the results is shown below.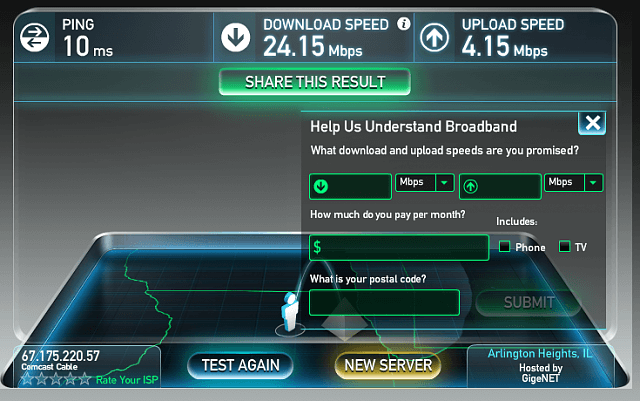 Testing on SpeedTest depends on three factors. Download, Upload, and Ping Time
Download – It shows the download speed of your overall internet connection (or VPN connection)
Upload – It shows the upload speed of your overall internet connection (or VPN connection)
Ping Time – It shows the response time you get from the server you are connecting.
VPN Built-In Speed Test
ExpressVPN is selected as an example to show how to conduct VPN speed test from the built-in feature.
Open your ExpressVPN client.
Click on the top right "three dots" button to open a drop-down menu.
Select "Speed Test" option.
A window will pop up, click on "Run Test."
The test will start checking three factors Speed Index, Latency, and Download Speed. See the picture below.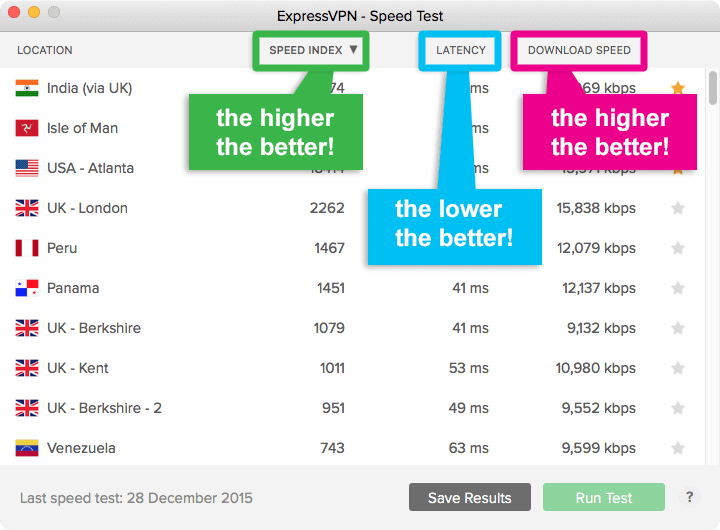 Latency – It's the time a data packet takes to reach a VPN server location from your device, measures in (ms) milliseconds. The lower the latency is, the better connectivity you will receive.
Download Speed – It is the speed at which data packets are downloaded from a VPN location, measured in (kbps) kilobits per second. Higher download speeds provide a better connection.
You can achieve different levels of video quality while streaming. According to Netflix:
| | |
| --- | --- |
| SPEED (kbps) | QUALITY |
| 500 | Minimum Quality |
| 1,500 | Normal Quality (less than 480p) |
| 3,000 | SD Quality (480p or better) |
| 5,000 | HD Quality (720p or better) |
| 25,000 | Ultra HD Quality (1080p or better) |
Speed Index – It combines the Download Speed and Latency  into a score for a given VPN server. The higher Speed Index tends to have better connectivity.
Conclusion
Testing a VPN is optional, you are not required to test it. However, if you are concerned about the speeds and having connectivity issues then it is wise to do VPN speed tests to save you from the frustration.