Detailed Review Of VYPRVPN
VyprVPN is a powerful VPN service initiated by its parent company Golden Frog. This VyprVPN Review goes to lengths to describe the key features of VyprVPN in order to demonstrate how it compares to other competitive VPNs.
The VyprVPN website offers easy to find what you are looking for navigation and loads of consistent information. VyprVPN is also a proud member of the "Take Back Your Internet" community.
Pricing plan
This VyprVPN Review gives you the latest information about VyprVPN's pricing options.Now they offer three distinct pricing plans for the users.
The basic monthly access plan goes for only $9.99 for one month and includes 128bit encryption through the PPTP security protocol. This fee also gives you 10GB worth of online storage in their Dump Truck application.
The VyprVPN Pro solution gives you unlimited access to all of the security protocols as well as allows you the use of two high speed connections which you can run at the same time. You also get 25GB of DumpTruck Cloud based storage. This package runs for $14.99 a month but you can also score a discount if you take the annual price option.
And finally the VyprVPN Premier account gives you a total of three connections you can use on multiple devices. You also get 50GB of the Dump Truck storage facility. This top of the range package costs $19.99 monthly.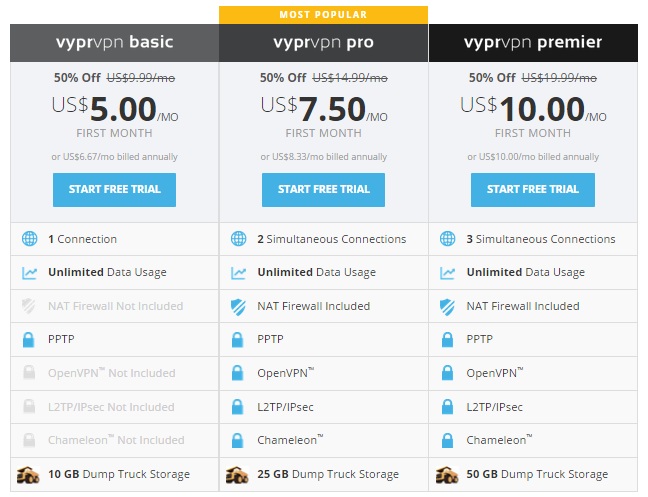 Payment Methods
VyprVPN allows you the basic payment methods:
While these may be sufficient for most VPN subscribers, there are those who prefer the confidentialitybenefits only a payment service like Bitcoin can offer. So unfortunately, you are rather limited if you prefer not to share your personal details or credit card information.
Salient Features brought to you by the VyprVPN
Servers & their locations
The independent network of VyprVPN boasts more than 700 servers worldwide which can generate well over 200,000 IP addresses.
Usually VPN service providers install various server farms in each given country and location. So as a user, you can choose different IP identifiers for each server's URL. On the other hand, VyprVPN makes use of individual servers which mask multiple cluster in the background.
Countries & Cities
At the present time,VyprVPN has servers in the following countries, since they are very competitive and are constantly expanding, you can expect this to improve over the long term. Countries are included Hong Kong, Canada, Denmark, France, Germany, Moscow, Netherlands, Sweden, Switzerland, UK, US and more.
The graphic below gives you a better idea of how VyprVPN is spread out internationally. VyprVPN are presently have servers in 45 countries.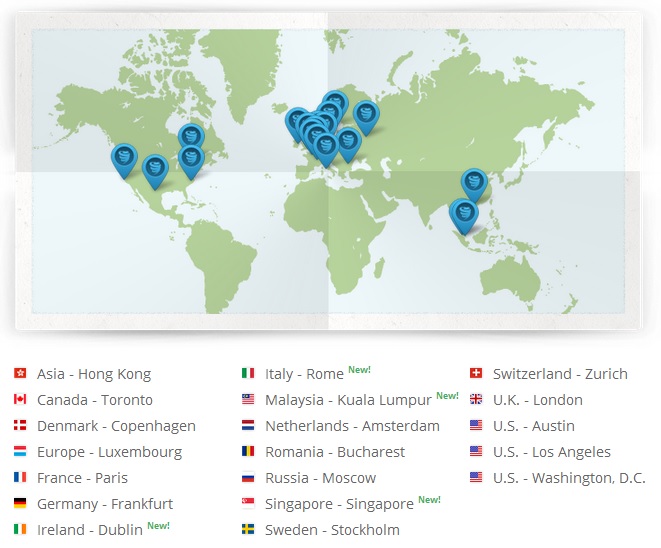 Dynamic Shared IPs
Among the features of VyprVPN,an importantis that they allow users to dynamically switch from one IP to another without interrupting the connectivity.
VyprDNS
VyprVPN has introduced some rather nifty features such as their own branded Smart DNS which they call VyprDNS. It works slightly different to other VPNs, by foregoing encryption of data, in favor of boosting speed and connectivity.
The best part for VyprVPN customers is that they do not pay extra for the VyprDNS benefit – it comes as a standard with all their packages.
Dump Truck Storage
VyprVPN offers an incredible feature of Dump truck storage and you can avail this feature with all plan of VyprVPN. It enables you to store, share, edit and upload any files ignoring your location. You get 10 GB, 25 GB and 50 GB storage capacity in your basic, pro and premierpackage respectively.
Chameleon & NAT firewall
To ensure top-most security of the users, VyprVPN has also introduced another innovative feature known simply as Chameleon. This is the company's very own software designed to hide VPN traffic by using deep packet inspection algorithms. This is especially useful in countries where VPN traffic is actively being prevented. On the other hand, VyprVPN claim the NAT Firewall used on their servers protect you from all forms of inbound traffic.
Speed of VyprVPN
VyprVPN excels in most speed tests and you can be assured of connection speeds which are between 40 and 60 percent of your maximum available bandwidth. They boast a high average of near 69% browsing speeds which makes them clearly one of the faster VPN service providers.This VyprVPN Review has found medium size file downloading and video streaming is quite fast and you can switch to another server if you have to without losing the download.
Sometimes though the speed is capped if you are in demand of a fast network. VyprVPN does this to ensure that all users get a decent throughput maintaining high average speeds across the network as a whole. In rare cases, it is possible to experience slower loading times and timeout errors but these can also be easily fixed by changing security protocols. The best advantage to you is obviously the fact that you can go on using VyprVPN for an unlimited time without the fear of any downtime.

Protocols
VyprVPN offers a variety of security protocols including 128bit PPTP, 256bit L2TP as well as 160bit and 256bit using the OpenVPN protocol.They also offers a distinct protocol from the other VPN service providers and this is Chemeleon protocol. This protocol ensures highest encryption and data authentication. To access the 256bit protocols on L2Tp and OpenVPN you have to upgrade to either their Pro or Premier package deal.
Compatibility with the OS and Devices
It is relatively easy to install and configure VyprVPN in all its application forms.Usually you can use basic LAN settings to get going with VyprVPN. After signing up with VyprVPN they send you details of how you can insert IP proxies and LAN settings.They have spared no effort in making the entire process of setting up and re-routing as streamlined as possible. Their site also has many tutorials you can go with that if arise any query.
VyprVPN can be used nicely on Windows, Mac OS X, iOS and Android devices. They also have an application for use with Linux, although this needs to be configured manually. In Windows, you always have ready access to the application via notifications in the taskbar. You have the ability to quickly change settings for switching between different IPs, servers and security protocols.
Windows VPN client
The Windows client for VyprVPN is very easy to use with simple navigation and quick ways to change up settings. It looks quite attractive and gives you option to view your current connection status directly in the Windows Taskbar.
Apart from being able to change settings related to the VPN connection, you can also set up the software to connect automatically. The only thing lacking though is a kill switch to rapidly cut off connection when you need to. But this shouldn't bother advanced and experienced users of VPNs.
 Android, iOS and Linux
This VyprVPN Review would like to inform you that while the Windows version of the software is so much user-friendly, you have yet to same experience on mobile devices. The only consideration however is that mobile devices are limited when it comes to the performance of most modern computers, so you can expect overall connection speeds on a mobile device to slower than that you use it on a PC.
Security and Privacy
VyprVPN has created a system whereby they control both their own hardware and software, making them completely independent of other systems and service providers. This allows them to provide a great and superior security services withfast speeds to their users. Moreover, VyprVPN's Chameleon protocol and NAT firewall ensure more security. They hide VPN traffic by using deep packet inspection algorithms and protect you from all forms of inbound traffic respectively.
It is important to note that while VyprVPN is registered in Switzerland, they are still in fact located in the United States. This does make them a bit vulnerable to inquiries in the US. However they usually take the side of the client and fend off DCMA inquiries with tenacity.
Setup Tutorials of the VyprVPN
In this VyprVPN review, you get a detailed process to set up VyprVPN on Windows, Mac, Android and iOS.
Setup of VyprVPN on Windows 7
In Windows Control Panel, go to "Network and Internet" option and find "Network and Sharing Center". Then Click on the "Setup a new connection or network" option.
Choose "Connect to a workplace" and click "Next".
Click on "Use my Internet Connection (VPN)".
Fill the server hostname e.g., us1.vyprvpn.com (United States)and under destination nametype "VyprVPN", but check the box of"Don't connect now; just set it up so I can connect later" and click Next.
Fill in your username and password while leaving the Domain field empty and choose "Remember this password". Then press "Create" and then close.
You can now access VyprVPN from the taskbar under the Network icon.
Fill in username and password and click "Connect".
Setup of VyprVPN on Android
Go to "Settings" and choose the "More Wireless".
Tap VPN to add a new network
Enter in the name "VyprVPN" and "PPTP" for the Type. Choose a server hostnames from the VyprVPN list and Click on "Save".
Enter in one of the server hostnames from the company and Save
Again in Settings application choose "More" under Wireless and Networks, click on VPN and then VyprVPN.
Fill in your username and password and check the box "Save Account Information", now press on "Connect".
Setup of VyprVPN on Mac
Go to System Preferences and find Network under Internet & Wireless. Then click on the plus sign bottom left corner.
Now choose VPN in "Interface" and for the VPN type choose PPTP. Fill in VyprVPN where it says service name. Then press Create.
Choose your new VyprVPN connection and insert a server hostname from the company. Fill in your Account name in the required field.
Press Authentication settings to fill in your Password and click OK.
Then go to "Advanced"option and make sure the option "Send all traffic over VPN"is checked and press the Apply button.
You can now connect directly from the VPN icon in the menu bar by clicking "Connect VyprVPN".
Setup of VyprVPN on iOS
First got to Settings and tap General, then Network, and finally choose VPN
Then Add VPN Configuration and choose PPTP
Enter your details like this: For description type VyprVPN and for server Enter a hostname you have chosen from the company
Don't forget to put in Your Username and Password
Tap Save and then you should be able to connect by swiping the VPN switch to ON.
Customer Support
Live Chat
There are many VPNs out there whose Live Chat barely functions well at all, and most times is hardly online for actual chatting. VyprVPN's live chat is available 24/7/365 and you can make it your first line of communication with the company if you need any assistance.
Support Tickets
Support tickets usually take a little bit more time since they obviously have a long line of queries in the queue.In this system, you just need to write the whole issues and send it over mail. Within 24 hours, you get the answer of your issues or queries.
Unique Selling Proposition
VyprVPN is a well-rounded VPN that provides the following unique selling proposition:
Great security through VyprDNS, Chameleon and NAT Firewall Protocol.
Excellent add-on applications:
GigaNews
GoldenFrog has introduced a fantastic service that they manage with direct cooperation with GigaNews, one of the best Usenet online companies.
 Dump Truck
When you sign up for the VyprVPN service you automatically get an account with Dump Truck, the company's very own cloud based storage service.
Conclusion
Bringing this VyprVPN Review to you, we can safely say that VyprVPN is one of the premier VPN service providers in the present world.In a word, VyprVPN is a solid VPN that can boast of having high-level security and protection feature, while also delivering reliable speeds with quick and excellent customer support.
Unlimited Data, Speed & Server Switches
7-Day Money Back Guarantee
Get VyprVPN Now