IPVanish Overview
Quite a few companies in the VPN industry possess a team which can be regarded nothing short of exceptional. Their team has enormous experience of more than 15 years in network management and content delivery. They launched their VPN service in 2012 with a unique selling advantage which clearly made them stand tall among the crowd; the only service provider with Tier-1 global network. IPVanish VPN is currently based in Florida USA.
You will be amazed to know that IPVanish has orchestrated their proprietary infrastructure for VPN; means they are self operating and managing their 180+ VPN servers which are deployed globally. Also, instead of rendering services of third party software house they in-house developed VPN software and applications for all operating systems and mobile device.
These are some reasons why IPVanish is regarded as a reliable, secure and ultra-fast VPN provider with more than 125 personnel to ensure that the company would only deliver premium class service. Advantages, weaknesses, features, discount, tutorials and all other related stuff will be covered in this IPVanish Review.
Pricing Plan and Packages
IPVanish team knows well how to attract potential client's attention. Their pricing plans are simple and designed to cope up with the requirements of all type of user. Similar to other VPN service provider IPVanish offers three different type of packages with increasing discounts rates; the longer you sign-up for the better discount you will avail. Although, there is no biasness of performance or bandwidth in offered packages. All plans have unlimited bandwidth, unlimited server switches and allow users' to simultaneous connect two devices at a time.

The most basic package offers 1-month subscription at the rate of $10. IPVanish is providing a distinct offer to their customers by its discount coupon. If you subscribe to IPVanish with 1-month package, you get a 17% discount.
Next package is for 3 months subscription that costs only $26.99 in a total. You need to spend only $8.99 per month, so you can save $1.01 than 1-month package. Because of the IPVanish discount offer, you are getting this package with 25% less price than their regular package.
The best economical of IPVanish is 1-year package. You can subscribe to the package with only $77.99 so you have to pay only $6.49 monthly. It's a great beneficial package for you because it saves $3.51 for you. With this package, you can save 46% than their regular one.
IPVanish VPN is offering attractive discount on all three pricing plans. One month plan is available for $10 after 17% discount. Three (3) months plan is currently available with 25% for $26.99; it will cost you $8.99 per month. Our recommendation is to go for yearly plan; the twelve (12) months plan is presently available at 46% discount for just $77.99, making it reasonably affordable at $6.49 only per month.
Additional Discount
IPVanish is also offering a limited time additional discount of 20% of the first three billing cycle. Be informed that this discount is supplementary in addition to regular discount and valid on all three pricing terms. Our tech experts at mostsecurevpn.com propose annual subscription; for once 46% concession makes it highly feasible at just $6.49 per month without any gimmicks or tricks. Wait a second..! you are probably worried about the risk associated with purchase of annual account. We have covered these risks in the next paragraph of this IPVanish review.
7-Days Money Back Guarantee
Of course there is a potential threat coupled with annual subscription. What if the service provider unable to meet committed their performance, speed, security, anonymity, privacy or connectivity..? So here's something which the smart team behind IPVanish VPN did for you; 'Seven (7) Days Money Back Guarantee'. We believe a weeks' time is ample enough to evaluate the quality of a VPN service. You can always ask for refund (within 7 days) if the provider fails to offer you with desired results. So why pay high price of monthly or quarterly account when have the similar protection of money back guarantee.
Payment Methods
IPVanish provides you with the liberty to pay through diverse payments methods. Such diversity assist you in making hassle-free transaction, hence increasing customer satisfaction. Credit Cards of Visa, MasterCard, JCB, Discover, etc are accepted by IPVanish. Also PayPal can be used to purchase VPN plan, plus World Pay option is available too which includes Alipay, Boleto, PaySafeCard, Giropay and many others.
However, the best option we found is payment via Bitcoin. The perfect method to render services while maintaining your privacy and complete anonymity. Stats show that more than 63% VPN users' are keen to keep their identity hidden, so why not get what you wish..! Of course, you are paying for it. None of your identity credentials will be disclosed to the VPN provider if the payments are made through Bitcoin.
IPVanish Server Spread and Locations
Selecting a VPN service is highly dependent on the number of available servers, their diversity, their presence in every region (especially key regions like Europe and America). IPVanish is considered among the leading VPN providers because they own one of the largest VPN server spread in the world; with 199 active servers in 63 countries at 78 locations on the globe, they are very much in the game of best VPN services.
Instead of rendering services of third party IPVanish team has acquired their own staff to operate and manage all these 199 servers. They have maintained the infrastructure of Tier-1 which ensures ultra fast VPN speed, seamless connectivity and minimal downtime. The skilled team of IPVanish have expertises in managing CDN (Content Delivery Network) as they assisted popular gaming firms like GameFly, Steam and others in the past to improve reliability and speed of the their online gaming connection.
IPVanish claims to be the fastest VPN network with Tier-1 capability and they have mega server spread to prove it. There are 63 server locations in North America with 55 servers deployed only in United States. Europe has 87 server location covering almost all of it; United Kingdom, Spain, Switzerland, Russia, Portugal, Norway, Netherlands, France, Germany, Italy, Hungary and many more. 25 server locations are in Asia; Hong Kong, India, Saudi Arabia, Malaysia, South Korea, etc. Whereas 11 server locations are in Oceania, 7 in Africa and 6 are in South America & Central.
Features of IPVanish VPN
The features provided by this VPN service provider is nothing less than one's desire; Premium security, optimum privacy, 100% protection from identity theft and complete data safety. IPVanish offers direct accessibility to the fastest VPN network of Tier-1 capability. You can download free software client for desktop & laptop, and free dedicated apps for handheld devices. Respective service provider allows unlimited VPN bandwidth and unlimited server switching options.
Subscribers can use single IPVanish connection on two (2) devices simultaneously. All the popular encryption are available to select from; PPTP, L2TP and OpenVPN. Plus they got skilled customer support team who provide valuable assistance round the clock i.e. 24/7.
Tier-1 VPN Network
 The most exclusive feature of IPVanish VPN services is its Tier-1 VPN Network. Generally, most of the VPN service providers establish their server network with different third parties. They do it for the purpose of making a larger network across the world. But it is a great competitive advantage of IPVanish is that although they belong a large VPN server network, they have whole ownership over it. They do not need to share your private data with any other parties. So you are more protected and secured with the IPVanish VPN.
Dynamic IPs
The protocols of IPVanish are directed by its dynamic IPs. It consists more than 25,000 IP addresses for their subscribers to choose the desired IP and ensure anonymous browsing. It provides its users the complete privacy and assures data encryption.
Speed of IPVanish
The most important feature of the VPN service provider is its internet speed after installing the software client. IPVanish speed is quite satisfactory using all protocols- OpenVPN, PPTP and L2TP/IPSec. There is a slight variation of the speed when you connected with the IPVanish client. If you make the connection using PPTP and L2TP/IPSec protocol, the speed difference is just 1 MB per second and if you go with recommended OpenVPN 256-bits encryption protocol, speed is reduced less than 1 MB per second. The following images give you a clear idea about it.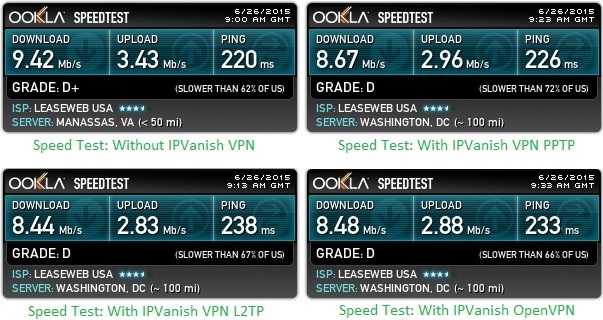 Additional Features
You can set the IPVanish app at the start- up of your windows device and save the login credentials from the preference uses.
IPVanish includes another feature in their client menu that is "IP Address Checker". Using this feature, you can check your IP address at any time and will be able to connect with the new server.
Client Software & Dedicated Apps
The free VPN software for desktop & laptop machine (Windows, Mac, etc.) and dedicated apps for remote devices (Android, iOS, etc.) has quite a user friendly interface. It is simple and pretty easy to use. The indication on the upper right corner shows connection status i.e. whether you are connected or not. Users' can setup preferred automatic connection if they like; the client software would select a server, location and protocol accordingly. If not you can manually choose from the listed servers, plus you can select specific location to use as proxy. There is also an option where you can select preferred encryption protocol.
Device Compatibility
IPVanish is compatible with the new version of Windows operating system including Windows 7/8/10/Vista/XP. Also supports MacOS X 10.6.8, Ubuntu (Linux), Chrome book and Routers (DD-WRT and Tomato). Their services are not limited within only windows and Mac, they have also launched user-friendly apps for Android and iOS (iPad & iPhone) devices. From the IPVanish's personal website, you can download the setup file within 3 or 4 minutes.  When the download will be completed, then click on the file. Now give the administrator's password for starting the installation process. After the completion of the installation, click on IPVanish VPN.exe which you will find in your desktop.
Android and iOS Apps
IPVanish has launched apps for both android and iOS (iPhone or iPad) devices. You can get these apps in Google Play store and Apple's App Store easily. You can download these apps at free of cost. Using these apps, you will feel the same experience as like as the desktop client. You can avail all the features of IPVanish by using the apps and these are regularly updated to be suited to your needs.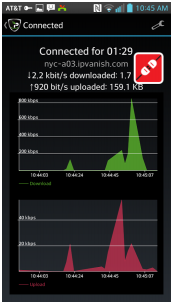 Setup Tutorials of IPVanish
This IPVanish review presents to you the step by step procedures of installing the IPVanish on Windows 7 / 8 / Vista, Mac, Android and iOS devices using the PPTP and L2TP security protocol.
Setup for Windows 7 with PPTP | L2TP
Go to the "Control Panel" of your desktop and select and open "Network and Internet" option.
Then press on "Network and Sharing Center" button and from the "Change your Network Settings" option, choose "Setup a New Connection or Network".
From "Setup a New Connection or Network" option, select "Connect to a Workplace" and press "Next" button.
These options you will find if a custom connection is configured through the "Network and Sharing Center". Otherwise, you need to click the "Next" option and choose "No, Create a New Connection", then again press on "Next".
Then click on the "Use my Internet Connection (VPN)" option.
Enter your chosen IPVanish hostname that you have selected from the IPVanish website and in "Destination Name" box describe the connection setup.
Then in the screen you can see 3 options, from there, check the box which states "'Don't Connect now, just set it up so I can connect later" and click "Next".
Enter "Username" and "Password" that you have got from the IPVanish team via email and if you wish to save the password, then click on "Remember this Password" box. No need to fill the field of "Domain", just press on "Click".
Now press on "Close" and "continue".
Again click on "Network and Sharing Center" option and find a "Link" on the above of "Change Adapter Settings".
After clicking on this link, your connection will appear to you. Now press the right-click button on that icon and choose "Properties" option.
Be sure about the hostname and press on "Security" tab. Then click on "Type of VPN" and choose "PPTP" or "L2TP". Now from the "Allow these Protocols" option be sure that "CHAP" and "MS-CHAP V2" box are checked off.
Again from the 'NETWORKING' option, uncheck the box of "TCP/IP v6' and 'File and Printer Sharing for Microsoft Networks" and click "OK".
From the "Notification Area" check your "Settings" and "Login Credentials". Then find and click on "Computer with a Cord and Plug" icon.
Finally, make the connection that you have finished just now by clicking on "Connect" button.
From this video, you will get a quick idea to install IPVanish on your Windows devices.
Setup for Android with PPTP | L2TP
Go to the "Settings" option of your android device and select "Wireless & Networks".
From that option select "VPN Settings" and click on "Add VPN" for the purpose of creating a new account.
Then choose "Add PPTP VPN – Point-to-Point" or "Add L2TP/IPSec" to indicate your desired protocol.
Now in the "VPN Name" box give a description of your VPN connection.
Then choose a server location and click on "Set VPN Server". Insert your desired address and check the "Enable Encryption" box.
Then click on "Save" and "OK" button respectively. But remember, if you choose "L2TP/IPSec" option, you need to insert the IPSec key by clicking on "Set IPSec Pre-Shared Key" and the key is 'ipvanish'.
After saving all the info, you will be redirected to the "VPN Settings" to test the connection.
When the dialog box of login is shown on your screen, put your "Username" and "Password" that you have received from the IPVanish over mail.
Then finally press on "Connect" button and get 100% online security.
Unblock Netflix, BBC iPlayer, HBO Go with IPVanish VPN
Best thing you can gain with such mighty server stretch is the freedom to roam geographically restricted content streaming website without any curb. Stream live shows on Netflix, BBC iPlayer, Amazon Fire TV, ABC family and many more through IPVanish VPN. It also enables you to play & listen to music from websites like Pandora and others with being victimized by geo limitations. It doesn't matter where you reside or travelling to some different region, IPVanish grants you passport to unblock all websites.
Torrenting Solution – IPVanish VPN
It is not just the passport for bypassing geo-restricted websites but also award you liberty for easy accessibility of torrenting and peer-to-peer networking. IPVanish gives you unlimited bandwidth to download or upload any content, regardless of its size. Even if your ISP allocates limited bandwidth, IPVanish embeds your original IP with one of its own dynamic shared IP, making it impossible for ISP to track your bandwidth consumption. Hence granting you unlimited bandwidth to share and download as much as you like on torrent and other P2P networks.
Unblock Skype, YouTube with IPVanish VPN
There are various regions where torrent is blocked or YouTube, Skype and other websites are blocked due to governmental policies. If such is the case in your region, search no further as IPVanish VPN is the perfect solution to bypass these restrictions. Sign-up for the annual package (46% discount) and give it a try, in case the service quality doesn't fulfill your requirements you can ask for refund (within 7 days).
NOTE: You have to select the server location where your desired website or service is not blocked. IPVanish would allocate you with an IP address of respective region and you can enjoy desired service or access specific website.
Exquisite Gaming Pleasure with IPVanish
When IPVanish says 'We have everything for everyone', they literary mean it. IPVanish has teamed up with a renowned gaming acceleration service named 'Lag Assassin'; they have expertise in connecting users with gaming servers via best routing channel, ensuing minimal 'LAG' and throttle-free gaming experience. Similar to IPVanish, the Lag Assassin has also got Tier-1 network spread worldwide; which reduces downtime and disconnection. It also provides advance lag spike and grants faster network connectivity. Best routing channel means shorter and faster route to connect user with gaming server; due to which user experience minimal lag and throttle while gaming online.
Security Standards
The security level of said VPN provider has greatly increased since last year; they have added thousands of new shared dynamic IP to provide subscribers with enhanced security to hide their identity. Plus they have abundance of VPN servers deployed in every region of the world; with their unlimited server switching option it is near impossible to track the activities of an individual. IPVanish client software allows users' to randomly switch between thousands of available dynamic IPs. Also you can schedule switching through 'Auto-Switch' option, which will change IP address after pre-defined intervals.
Privacy Policy
IPVanish, apart from improved security offers great deal of privacy. For instance you can maintain complete anonymity by purchasing VPN plan via Bitcoin. All that will be revealed is your email address; you can create an anonymous email for sign-up purpose and your identity would remain undisclosed. Log policy of the provider will be discussed in the later part of this IPVanish review.
NAT Firewall Protection
IPVanish VPN cares a lot about their promise of ultimate security. To ensure it they have included a NAT Firewall feature with all VPN packages. NAT firewall track inbound traffic and assist in blocking it, this protects your system from being attacked. Said feature is also provided by other leading VPN provider; the only difference is that you have to pay additional charges in order to acquire this add-on.
Zero Log Policy
IPVanish is headquartered in the technology hub of the world; United States. Being based in Florida not only gives them competitive edge to utilize the most advance infrastructure but they also enjoy the leniency provided by the law i.e. retention of user logs is not mandatory. IPVanish does not keep records of users' online activities, however they keep time stamp of connection including date and time, original IP address, duration of connection and consumed bandwidth. This might be uncomforting but then again who doesn't..! Almost all other leading VPN service providers store such data for record purpose.
Encryption Protocol
IPVanish VPN allows their customer base to select from three popular encryption protocols; PPTP, L2TP and OpenVPN. Point-to-Point Tunneling (PPTP) offers 128-bits encryption but it is ultra fast, highly recommended for online gamers. When tier-1 VPN connectivity is coupled with fastest encryption protocol (PPTP), it gives you are remembering gaming experience. Layer 2 tunneling protocol (L2TP) is the second one, it has 256-bits encryption – not as quick as PPTP but considered much secured due to high level encryption. Our recommendation is to use the most popular OpenVPN protocol throughout (except you are gaming) – it has ultra high encryption of 256-bits and optimum speed.
IPVanish Website
All the required information, features, pricing plans, server location and list are available on provider's website. Features like attractive layout, handful of information regarding service provider's performance, embedded with professional interface would describe the official website of IPVanish VPN. Guides and tutorials are also available on their official website; you can manually setup IPVanish VPN for MacOS, Windows, Linux (Ubuntu), Android, iOS, Windows Phone and Chrome book. Tutorial and visual guides to setup VPN connection on DD-WRT and Tomato routers are also available on IPVanish website. Out team at MostSecureVPN has evaluated the efficiency of given tutorials; they are so detailed that even a novice user can easily setup VPN with assistance of these tutorials.
 Customer Support
The user feedback we gathered from existing & prospect clients for our IPVanish review regarding their customer support is way above average. Mostly issues were resolved through blog and FAQ section of their website, plus descriptive tutorials & visual guides are there. The live chat option is available during eastern working hours (US time zone), but in case of a query, you can always email them. We have tried it thrice; the response time is around 12-15 minutes which is acceptable.
Unique Selling Proposition
This IPVanish review gives you a complete idea about the fact that what unique services make IPVanish distinct from the others. These uniqueness
The main competitive advantage that makes the IPVanish most attractive to the VPN users is its "Zero Log Policy"
7-day money-back guarantee
Up to 46% discount offer
Decision Time..!
Evaluation from our tech team predicts that IPVanish has lay down its foot to rival the performance, speed and consistency of mightiest VPN providers of industry like ExpressVPN, HideMyAss or VyprVPN. Capturing the market share through genuine zero log policy, enhanced security standards and improved encryption; IPVanish offers more than 180 servers located in 60+ countries. Their customer base is on high-rise since they provide 'Tier-1' VPN network, ensuring the fastest connectivity and minimal down-time – 99.671% to be precise.
You can serve a lot of client simultaneous, as they got more than 25,000 dynamic shared IP. With no restriction on consumed bandwidth, unlimited server switching and outstanding customer support division round the clock; IPVanish is the best value for money. If you are here for the best VPN service, go no further; sign-up for the yearly package of IPVanish at just 6.49 USD per month and avail 46% discount. Don't believe on their promises, evaluate yourself..! Even after sign-up you got seven (7) good days to assess their services. Take advantage of their 7 days money back guarantee and in case they fail to deliver your required service quality, ask for refund.