Features:
24/7 customer support
Fast servers in 49+ countries
128bit security & encryption
Unlimited bandwidth & server
Unlimited server switches
6 Simultaneous Connection
devices (Windows, Mac, iOS, Android)
30-day money-back guarantee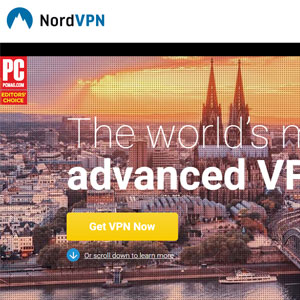 Starter
Monthly
Basic
$

11.95

Per Month

Money Back Guarantee

Choose Starter
Unlimited
Yearly
Recommended!
$

3.29

Per Month

Money Back Guarantee

Choose Unlimited
Detailed NordVPN Review:
NordVPN is considered one of the powerful solutions on the market that manage to offer a user-friendly interface. They promote double data encryption for extra security, a high-speed connection and strict no logs policies. Do you think it sounds too good to be true?
We put NordVPN through a thorough battery of tests and now we can offer you a detailed review of all its features. If you are interested in a VPN solution that is both powerful and rich in features, then continue reading. NordVPN offers you a great service, at an affordable price and doesn't make any compromises when it comes to its users.
Pricing plans & Packages

Like many VPN solutions out there, NordVPN offers three plans that are differentiated only by the length of subscription. Thus there are:
Simple (1 month – $8/month)
Standard (6 months – $7/month) – billed in one payment
Best offer (1 year -$5.75/month) – billed annually
Special Deal – 3.29/m – Exclusively
The accepted payment methods are the usual ones (PayPal, Paymentwall, and Credit Card) and Bitcoin which is perfect for those who want to remain completely anonymous. However, please keep in mind that payments in Bitcoin are not refundable. Also, if you get the subscription via the Apple AppStore, the payment is non-refundable as well.
Important tip: If you are looking to test the product without paying and dealing with a refund request, they also offer a 3-days trial period. However, it is not advertised on their site and you have to browse the FAQ section to learn about it. Thus, you have to specifically request for the trial account, by sending an email to the specified address.
Money Back Guarantee
NordVPN offers a 30-days-money-back guarantee. So, you have the possibility to test all the features for 30 days. If you don't like it, you simply apply for a refund request, no questions asked.
Important tip:They also have an affiliate program where you can create an account and refer people to their site. This is a great way to support your favorite VPN solution and earn some money while doing so.
Special Deal – 3.29/m – Exclusively
Speed
They boast themselves with lightning speeds and fast servers, but our tests only revealed an average quality in this department. However, we shouldn't forget that they implement a double encryption which is heavier on the speed characteristics. Also, they are way above most of the VPN solutions out there so this shouldn't be a problem for anyone.
There will be little to no lag and speeds vary between 5Mbps in the UK to 2Mbps on servers in the US. But don't get scared! If you want a VPN solution for streaming, then you should know there are dedicated servers that support better speeds. However, they are not lightning-fast either.
As you can see, in terms of speed, NordVPN is not the fastest. This makes us recommend it for those who are motived by security rather than streaming and accessing geographically blocked services.
Device compatibility

NordVPN is a versatile solution that works on both PC and mobile devices. Even more, you can run it on game consoles and certain routers.
On desktop, NordVPN supports:
Windows
Mac OS
Linux
On mobile devices, you can run it on:
iOS
Android
Windows Phone
Special Deal – 3.29/m – Exclusively
Features

The company that owns NordVPN is situated in Panama and, even though we all heard about Panama due to the famous leaks, their servers remained safe. Even more, for a very affordable price, they offer up to 6 consecutive connections. However, the fact that it can be run on several router types means that all the devices behind that router will be protected. So, you could implement this solution in a small company if you wanted to.
They support a wide network that comprises of over 560 servers in 49 countries all over the globe. Also, in regions where this is still possible, servers accept P2P connections. You can also opt for Tor over VPN and dedicated streaming servers that offer higher speeds. And, to make the offer even better, they offer unlimited bandwidth on all your devices.
NordVPN can also be used to access streaming services that are blocked based on geographic position. However, you should know that some of these services try to ban VPN access (Netflix is the most set on this) so you might not get through.
And finally, one of the features that raised our interest to the roof is their zero-logs policy. Since they are not bound by law to gather and store traffic logs, they are also strict about it. Even more, the shared IP address and the multi-hop connection makes it almost impossible to trace someone's activity via their servers. Yet, they don't support illegal activities so beware.
Important fact:They make the nice gesture of offering Emergency VPN assistance for free to those persecuted for their opinion. They believe that the Internet is for everyone and should not be censored too strictly.
Server Location of NordVPN

As we already mentioned, NordVPN has a wide network that covers over 49 countries. In terms of spread, you can access locations from all over the world (almost).
They even have a dedicated page where you can see each server's load and the type of security protocols it uses. This feature is quite convenient as you don't have to lose time and test out servers until you find one that fits. On this page you can also select the type of server you want to connect with. Thus, there are:
Double VPN servers – great for extra security
Tor over VPN servers
Ultrafast TV – for people who are more interested in streaming
Anti DDoS servers – if you think someone may try to attack your connection with a denial of services attack
Dedicated IP servers
NordVPN promises 99% uptime and they are true to their word. Still, from time to time, you will see that some servers display the status 'Server down'. This is normal considering that they have to manage so many servers all over the world. Even better, because there are so many servers, when some go down, you won't be affected as there will always be at least one server up and ready.
Special Deal – 3.29/m – Exclusively
NordVPN Client Software & Apps

The client and apps are user-friendly and easy to install anduse.The software is so intuitive that even a non-technical person will be able to understand how to connect to a server.You can select servers by country or by server and all you have to do is tap on the 'Connect' button at the bottom. The connection is usually established quickly, but it also depends on the physical distance.
Setup & Interface

The setup process is quite simple and intuitive. After you setup the account and decide on the type of subscription you want, all you have to do is download the client/app for your operating system and install it. Once the installation is complete, you'll need your username and password to log in and have access to the main interface.
The best part with NordVPN's client is that you can see each server's load and latency right in the interface. While other VPN solutions also offer a page where you can check their servers' status, not so many have this feature integrated directly in the client.
You will also see that there is a 'Refresh server status' button at the bottom (under 'Connect'). This is great to update servers' status from time to time and see if any of the ones you favor got free. Anyways, the solution supports a wide network so you will definitely find a server to work for you.
The interface will also show you who else is connected with the same account and other details like your IP address and details related to the connection or the account. All in all, the interface is not too crowded and tries to guide your actions as naturally as possible.
There is also a Settings tab, where advanced users can play with their connection's settings. You have options like auto-connect, DNS leak protection and the possibility to choose between UDP and TCP for the speed. There's also an automatic killswitch that cuts off the connection and lets you know you are not protected anymore (in case the service stops working). This prevents DNS leaks and keeps prying eyes away from your network in the case the server went down.
On the downside, you may notice certain latency in the client's response to your actions. For instance, it may take a few seconds for a button to activate after you clicked on it. This can be frustrating at first, but once you get used to it, you'll hardly notice it. The development team is currently working on a new app so it may not be too long until this issue will be resolved.
Special Deal – 3.29/m – Exclusively
NordVPN Website
The website is modern looking and friendly, but we would love to see more information. They follow the general presentation, but don't get into too much detail.There is however, a FAQ section and a tutorial section where you can get more information.
They also offer a Blog section where users can get educated on recent VPN related issues a latest NordVPN development.
Security & Privacy Policy
NordVPN is one of the solutions that chose to go with heavy security. They preferred to sacrifice some speed instead of compromising on security. Thus, the basic protocol uses AES 256 bit for encryption, RSA 2048 for handshaking, and SHA-2 for authentication. They also use firewalls to protect their servers and they have a strict no-logs policy. The fact that they are located in Panama is a plus point when it comes to privacy and, as long as you keep your actions legal, you have nothing to worry.
The most popular (among users) security protocol is OpenVPN which implements a 2048 bit SSL encryption.But you can also opt for PPTP (equipped with MPPE-128 encryption), L2TP/IPSec (with AES-256 encryption), and Proxy. Even more, NordVPN plans to introduce the faster IKEv2 VPN protocol.
We also mentioned that NordVPN comes with Double VPN protocol. This one supports double AES-256-CBC through multi-node farm. It's not a protocol usually found in VPN solutions which is why we consider NordVPN to be one of the most secure on the market.
One of the features we appreciated the most with this solution is the fact that it doesn't allow for DNS leaks. Here is where the killswitch proves its power and makes NordVPN one pretty reliable system.
Special Deal – 3.29/m – Exclusively
Customer support

When it comes to support, they are extremely open. First, there is the possibility to connect via instant chat, using the plugin in the bottom-right corner of the site. This will put you in direct connection with the support team that is available 24/7 to answer your questions.
Next, on the Contact Us page you have three main options: email, Contact form, or help desk. Regardless of the method you use, the reply will be polite and fast.
There is also a very well-designed FAQ section and a tutorial section where you can get details on every possible device. Tutorials are detailed, well-explained, and some even have video instructions so you may want to go through these before calling support.
Conclusion
Before we draw our final conclusion, let's take a look at the Pros and Cons for this VPN solution.
Pros:
A wide range of servers all over the world
Their security level is quite high
The company is located in Panama and they don't have to obey the US or the European laws
They support a zero-logs policy
The solution can be easily implemented in a small company
The interface is user-friendly and there are clients for a wide range of devices
Cons:
There are no refunds for Bitcoin payments
The site could be more informative
In the end, if you are not hell-bent on really fast connections, NordVPN is the perfect way to protect your personal information and privacy online. It implements a higher level of security and it offers affordable prices with amazing features.