Is VPN Safe To Use? 4 Must-Know Facts When Considering a VPN
Wondering if VPNs are safe? This article explains it all
Ever since the arrival of the COVID-19 pandemic, we're seeing many more internet users work and browse more regularly from the comfort of their own homes. As remote work continues to rise and we become more accustomed to spending time indoors, the topic of safety online is becoming increasingly important to address. 
Data shows that instances of cybercrime since the beginning of the pandemic have increased drastically, indicating that we may not be as safe as we believe when browsing the internet, working remotely, and streaming entertainment online. 
One clear solution to this issue comes in the form of a virtual private network, or VPN for short. VPNs have many uses; they secure your internet connection while encrypting the data you send and receive – helping to pave the way for a truly anonymous and private experience online. 
VPNs also work in unblocking geo-restricted content around the world – meaning that you can access TV shows and movies on the US version of Netflix whilst in the UK, for instance. You can also access websites that are blocked by your ISP or government, too. 
However, it's also worth asking the question of whether VPNs are safe to use. Are virtual private networks really as private as they claim to be? Is buying a premium VPN service worth the extra cost? Let's take 4 key facts into account in addressing these questions and have a deeper look into why virtual private network usage has become so popular in recent months: 
1. Anonymous Security
Truly anonymous activity online is hard to come by. Whether your information is being passed on to third parties for marketing purposes, your personal information is being spied upon in public WiFi networks or your browsing activity is being shared by your ISP, the chances are that your privacy has been put at risk without your knowledge recently. 
When it comes to matters of safety online, there are very few forms of software that can compete with VPNs in terms of keeping your information private and your connection anonymous. By subscribing to a VPN service, it's possible to browse the web while retaining full anonymity. Although many browsers today offer incognito and private modes, these can only hide the websites you visit – they can't prevent your information from being passed on if your connection isn't private.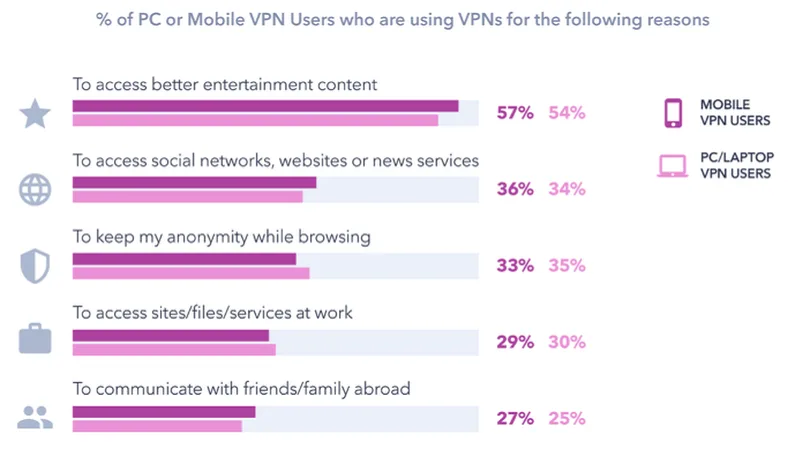 (Image: PC Mag)
As the chart above shows, the quality of anonymity that VPNs grant is so strong that many users actually utilise virtual private networks to access locked content from around the world. By anonymously connecting to private servers, VPN users can mask their location in order to stream content that may only be available in specific countries, for instance. Although for many people, anonymous streaming is the biggest perk of VPNs, 35% of PC and laptop users favour these networks for keeping anonymity in place whilst browsing the web. 
2. Safety Not Guaranteed
So, we've established that VPNs are capable of offering greater privacy and anonymity online, does this mean that they guarantee our safety while browsing the web? The short answer is no. 
While VPNs are great at ensuring that you're not being spied on when browsing the internet, there's no guarantee that the websites you're accessing won't uphold the same levels of privacy for users. For instance, a virtual private network can't keep users safe from websites recording information about the pages and products you visit on-site, and it can't stop you from unwittingly getting caught up in phishing scams or spammy mailing lists if you share your information in the wrong place. 
With this in mind, it's vital that you never develop a false sense of security while using VPNs. They can encrypt your connection to make sure that information isn't leaked to cybercriminals, but if you're tricked into voluntarily sharing personal data, your security could be compromised. 
3. Be Sure to Understand Your VPN Provider's Logs Policy
To ensure that the VPN you're choosing to use is truly safe, it's worth taking a moment to read its privacy policy to make sure that the service doesn't store user records or browsing logs to monitor your activity online. 
Although most paid-for VPNs don't log the browsing history of users, some low-cost and free services are potentially liable to retain information like IP addresses, browsing patterns, activity online, DNS queries and the metadata of users – which may be passed on for marketing purposes or other underhand activities. 
Before opting for a VPN service to use, it's worth checking the reviews for the provider and seeing whether or not they can guarantee that they don't log your activity or browsing history. 
4. Stay Vigilant Against Free VPNs
As with many things in life, if a service is claiming to be free, it's likely to be too good to be true. Free VPN providers need to make their money somehow, and it's important to conduct your share of due diligence to find the catch before your personal information may be compromised. With this in mind, it's worth picking a premium-quality service that you trust. There are many to choose from and they're likely to offer far greater levels of privacy and safety online. 
The biggest dangers associated with free VPNs revolve around the prospect of providers compromising your security with out-of-date software that doesn't protect against malware and blockers for malicious ads online. However, there are far more dangers to be wary of than just shoddy levels of service. 
To make money, some free VPN services utilise third-party trackers to actively monitor your browsing activity to generate pop-up ads. While other VPNs actively slow down your bandwidth to accommodate more users on a server at any given time. 
What's worse is that some free VPN services fail to show the whole picture surrounding their quality of service, so it's vital to stay vigilant. Remember to check service ratings and keep a careful watch on privacy policies. 
Despite some VPNs coming up short in terms of keeping you safe and secure online, most premium quality providers are excellent for upholding greater levels of anonymity and privacy as you browse. So do your homework, stay on guard against low-quality services, and rest assured that you can browse in peace with a VPN that you trust.